When looking for a unit to bring to your sewing machine to work on small projects for garment constructions, home decor and making quilts, you might be looking for the basic features that will help you to work from the start to the finish of your projects, the Baby Lock Jubilant Sewing Machine Review will help you to know what features it has and if this is the unit you're looking for.
The Baby Lock Jubilant is a computerized sewing machine with many of the newer features to make your sewing a pleasure to do.
This is a lightweight machine, and with a carrying handle would be easy to take to sewing classes or move it around your sewing room.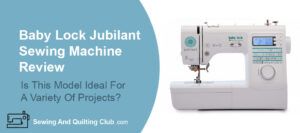 It can be used for some thicker fabrics such as quilting, and has the free arm for doing cuffs, sleeves, pants, etc.
You can also get optional accessories for this machine at extra cost, such as a quilting kit with 6 different presser feet, and a walking foot, plus when sewing larger project you can get an extension table that is 17 1/4 inches long and 10 7/8 inches wide, giving you much more working space.
Who Is The Baby Lock Jubilant For?
If you are a beginner or an advanced sewer who is looking for a lightweight and easy to set up sewing machine, to have in your sewing room or to take it to your sewing classes with enough features to work on different projects, then you might want to take a look to our review.
Baby Lock Jubilant Sewing Machine Review
Below we will go through the features found on the Jubilant.
80 Built-In Stitches
This model has 80 built-in stitches, and 8 one-step buttonholes. The stitches are displayed on the front of the machine, and each is numbered for easy reference when brought up on the LCD screen, and a stitch chart is supplied that can be set up on top of the machine.
A stitch pattern selection dial is located just under the diagram of stitches.
The machine has a variety of stitches from your basic, utility, decorative and more.
On the computer screen you are also able to select the stitch length and width for adjusting which has a maximum stitch length of 5 mm, and a maximum stitch width of 7 mm.
The machine has the reverse stitch button to tie off stitches also, and is able to sew up to 850 stitches per minute.
Bobbin And Threading.
To thread the bobbin just follow the guides on top of the sewing machine, then start the machine by the start/stop button or the foot controller if plugged in, note that the start/stop button will not work if foot controller is plugged in.
When the bobbin winding speed slows down stop the machine and remove the bobbin.
On this model installing the bobbin is the top loading type, so just remove the cover and drop bobbin in with thread coming off counter clockwise, and guide thread through the slit, then cut with the thread cutter, and the machine will sew without pulling up the thread, then put back the bobbin cover.
To thread the machine down to the needle follow the arrowed numbered guides down to the threader and with needle in the highest position press down on the needle threader lever on the end of the machine, and your ready to sew.
The recommended needle size is 65/9 to 100/16 and a thread weight of 30 to 90.
There is a thread tension dial that seldom needs adjustment, and is set between 3 and 4 for normal sewing.
7 Presser Feet
The Jubilant comes with 7 snap on presser feet.
Blind stitch foot
Button fitting foot
Buttonhole foot
Overcasting foot
Monogramming foot
Zigzag standard foot
Zipper foot
Each foot is lettered so that when stitch is chosen on the LCD screen, the presser foot with its letter are shown as a recommendation for that stitch.
To change the presser feet just press the black button at back of presser foot holder and foot drops off, then snap another one in place.
Feed Dogs
The feed dogs on this model are the 7 piece system and will move the fabric smooth and evenly while sewing.
There is a switch at the back of the free arm for lowering or raising the feed dogs if you need to do free motion sewing or quilting.
Free Arm
To access the free arm just remove the accessory tray, and then you can sew sleeves, pants, cuffs, and any other difficult to sew project.
Control Buttons That Will Help You To Work On Your Projects With Ease
On the front of this sewing machine at a handy spot for your fingers is the start/stop button
Reverse stitch button – to tie off stitches
Reinforcement button – when pressed a little green LED light comes on, letting you know the machine will complete the stitch then tie it off.
Needle position button – lower or raises needle
Speed control lever
Twin needle – button – when pressed will show on screen, and also shows any stitches that can't be used with the twin needles.
Tie off button – to right of screen, and when pressed will tie off stitches.
2 buttons for adjusting stitch length and width.
Stitch selector dial – below chart on machine
Thread tension dial on top
Drop feed dogs lever, on back of free arm.
Great Lighting In The Work Area
The LED lights on this model give a very bright work area, and is a big help when working on darker fabrics.
Baby Lock Jubilant Accessories
This model comes with a good number of accessories so you can work on many different projects.
Presser feet
4 bobbins
Soft case cover
Twin needle
Spool caps – large, medium and small
Screwdriver
Seam ripper
Cleaning brush
Foot control
Power cord
Stitch pattern plate
Spool net
Instruction manual and reference guide
Optional accessories can be purchased separately
Specifications For The Baby Lock Jubilant
Lightweight and good size model to have it in the sewing room or to carrying to the sewing classes.
15 pounds – has carrying handle
6 1/4 inch workspace
80 stitches
850 stitches per minute
5 mm maximum stitch length
7 mm maximum stitch width
11 inches high by 16 1/4 inches long by 6 1/4 inches wide.
Warranty
The warranty for this model is 25 year limited manufactures warranty, and 10 years on parts, 1 year on circuit boards, 2 years on electrical and 1 year labor.
Shipping and freight charges are the responsibility of the owner, and always best to check warranty when purchasing.
Pros And Cons
Pros
Light enough to take to sewing classes
Buttons and features are conveniently located
Has free arm ability
Needle threader
Drop feed for free motion sewing and quilting
Excellent price for all you're getting
Will sew thick fabrics.
Cons
No automatic thread cutter
Is This A Sewing Machine For Beginners?
This is a model easy to set up and switch from one feature to another, it comes with the controls that will help beginners to start working on easy to make projects as they learn the basic of sewing skills, then it will be used with regular speed as the sewer gets more skilled to work on medium or more advanced projects.
Can I Make Quilts With The Baby Lock Jubilant?
This is a good model to work on the making of any top for a quilt, and it has the drop feed dog system that will help you to work on the free motion quilting of your quilts, however, when you purchase this model it comes with the accessories listed above, to work on the making of your quilts you will need to purchase some optional accessories as the 1/4 inch foot and the darning feet.
Why I Should Buy The Baby Lock Jubilant?
The Baby Lock sewing machines are designed and made with high quality to help sewers to work with ease on their projects, this model was designed with advanced features, and it will last for many years in your sewing room.
Where To Purchase The Baby Lock Jubilant?
You can find this model on the shelves of the specialty store or with the sewing machine dealer in your are, but you can also purchase this model online, check today's price on Amazon.com
If you're looking for a sewing machine for beginners, take a look to the Baby Lock Joy Sewing Machine Review.
Baby Lock Jubilant Sewing Machine Review – Our Final Thoughts
As the pros for this machine far outweigh the cons, we would recommend it, and is an excellent machine for an experienced sewer or even someone starting out sewing.
It's very easy to set up and the threading takes very little time before you're up and sewing.
With a stitch chart displayed on the front it only takes seconds to pick out a stitch pattern to display on the LCD screen.
There is an excellent instruction manual that's fully diagrammed with this model.
We hope this review gives a good idea of how the Jubilant works with its many features, and if it meets your sewing needs, then take it for a test run.
Wishing you all the best on your sewing projects – Happy Sewing!