The Baby Lock Joy Review, this sewing machine is not computerized, but is an ideal machine if you want to sew on a patch, fix a hem, or smaller sewing projects you have around the home.
This model makes the perfect choice for any beginner sewer with it being easy to set up and start sewing.
This company makes high quality sewing machines that are made to last, with many of the modern features to make your sewing life easier.
Baby Lock Joy Sewing Machine Review
Below we will mention the features found on this model to see if it matches up with any of your preferences for sewing.
19 Built-In Stitches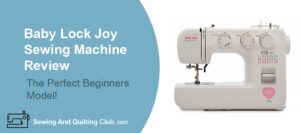 The Baby Lock Joy comes with 19 built-in stitches, and 4 step buttonhole.
For stitches, you have the basic straight stitches, utility stitches, and decorative stitches, and these are displayed on the front of the machine.
The stitches are selected with a pattern selector dial on front and each is lettered.
The stitch length and width can also be adjusted by dials on the front, and if the stretch stitch pattern is uneven it can be adjusted also with the stitch length dial.
For this model the maximum stitch length is 4 mm and the maximum stitch width is 5 mm, and there is also a lever to reverse the stitch for tying off the stitches.
Bobbin And Threading.
To wind the bobbin follow directions on the top, and with bobbin on winding spindle push it to the right and start machine, and when bobbin is full it will step automatically.
To install the bobbin lift off the cover, and insert the bobbin, with thread coming off counter clockwise, and follow the guide, and leave about 4 inches of thread out, then install cover.
With the needle in its highest position thread the machine by following the numbered arrows down to the automatic threader, and as it is not fully automatic you need to turn a knob to get the thread through the needle eye.
The threader works best with number 11 to 16 needles, and thread size 50 to 90.
The machine also has an adjustable thread tension dial that only needs to be used with thicker fabrics.
Presser Feet
This sewing machine comes with 4 presser feet
Slidding buttonhole foot
Blind hem foot
Zipper foot
Zigzag foot
These are each lettered and are the snap on type, so by pushing the lever behind the foot it drops off, then snap a new one in place.
The lifter can raise the presser foot about 1/4 inch higher than normal making it easy to change the foot.
Feed Dogs
To lower the feed dogs the lever is located under the free arm accessory drawer, and the feed dogs must be up for regular sewing.
Free Arm
By removing the accessory tray which just pulls off towards the end of the sewing machine, you have access to the free arm for sewing sleeves, pant legs, tubular garments, etc.
Control Buttons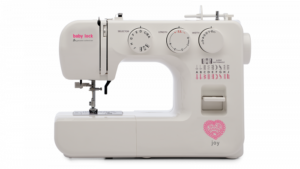 This sewing machine is very easy to operate with only a few buttons.
Two dials for adjusting width and length of stitches
One dial for selecting the stitch patterns
A thread tension dial
Reverse stitch lever on front
Drop feed dog lever – under accessory drawer
Thread cutter – manually on end of machine
Hand wheel – on end
Lighting
The light on this model shines directly down on the needle work area.
Accessories For The Baby Lock Joy
4 presser feet
3 bobbins
Spool caps large and small
Needle package
Screwdriver
Seam ripper
Spool pin
Instruction manual
Power cord
Electronic foot control
Specifications For The Baby Lock Joy
11.5 pound weight – has carrying handle
10 1/4 inches high by 14 7/8 inches long by 6 1/4 inches wide
4 mm maximum stitch length
5 mm maximum stitch width
19 built-in stitches
Warranty
There is a 25-year limited warranty with 10 years on parts, 5 years on the electrical, and 1 year on labor. Always check the warranty when purchasing also.
The Pros And Cons For The Baby Lock Joy
Pros
Ideal machine for beginners
Easy to set up and start sewing
Light enough to take to sewing classes
Has free arm
Adjustable stitch width and length
Price is low
Cons
Just 19 built-in stitches
Is The Baby Lock Joy Good For Beginners?
This model is easy to set up and start sewing, has a foot control and it will be the perfect sewing machine for anyone who is interested to learn to sew.
It comes with enough features to learn to sew and make the first projects.
Is the Baby Lock Joy Portable?
This is a lightweight model and it comes with a built-in handle that make is perfect to carry around the house or to take it to your sewing classes
Can I Make Quilts With the Baby Lock Joy?
This a good model to work on the piecing of any quilt top, but at the time to think about working on the free motion quilting, it might be a good model to work only on small size quilts, but I don't think it will be good to work on regular size quilts.
However, as this model has the drop feed dog system, you can start learning to free motion quilting, but you will need to purchase the walking foot and the spring motion quilting foot separately.
If you're looking for a sewing machine to work on your quilts with ease and you have some experience already, take a look to the Baby Lock Aria Sewing Machine Review 
Where To Purchase The Baby Lock Joy?
You can find this model off and online, you will find it on the shelves of your local specialty store or at the sewing machine dealer in your area, you also can check today's price on Amazon

Baby Lock Joy Sewing Machine Review – Our Closing Thoughts
We would recommend this sewing machine for any beginner starting out sewing.
Its easy to set up and light enough to take to sewing classes. And the controls in the front are all within easy reach.
The instruction manual has diagrams for the stitches, and is great for referencing any of the features.
It also comes at a very reasonable price, and would make a good addition to any sewing room, so if this model matches your sewing needs, then give it a test run.
Wishing you all the best on your sewing projects – Happy Sewing!