Sewing Machine Needles will help you to get the best stitching quality all the time, find the right needle for your current sewing project.
When you buy a new sewing machine, it is usually supplied with a package or two of needles for your sewing projects, and one thing to remember is that the lighter the fabric uses a smaller needle, while thicker fabric like denim or leather will use a longer thicker needle.
Another thing we should mention is that American needles sizes go from 8 the lightest to 19 the heaviest, and European sizes go from 60 to 120 increasing sizes of 5 each time.
Sewing Machine Needles
We will look at some of the best sewing machine needles you must have in your sewing room.
*This post shares affiliate links, at no extra cost for you.
---
1 – Universal Needles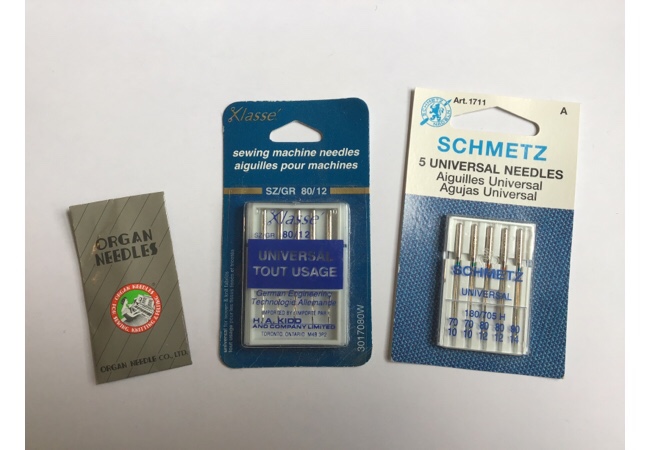 These needles are used for your basic sewing, and come supplied for most sewing machines.
They can be used for sewing woven or knit fabrics, or any regular cotton as the needle is slightly rounded, but sharp enough to pass easily through your fabrics.
---
2 – Sewing Machine Needles For Jeans And Denim
Check the sewing machine needles for denim and jeans latest price on Amazon here!
These needles are designed so that the shaft is thicker, and with a sharp point so as to be able to go through any of your heavier fabrics without breaking, They work very well when sewing canvas, denim and other type of thicker fabrics.
---
3 – Sewing Machine Needles For Quilting
This needle is designed with a thin shaft and a point that is rounded, so it will go through several layers of fabric at once, when quilting.
A size 90/14 needle is often used, and the eye is large enough for most threads.
Check the sewing machine for quilting latest price on Amazon here!
This needle is designed with a thin shaft and a point that is rounded, so it will go through several layers of fabric at once, when quilting.
A size 90/14 needle is often used and the eye is large enough for most threads.
---
4 – Sewing Machine Self-Threading Needle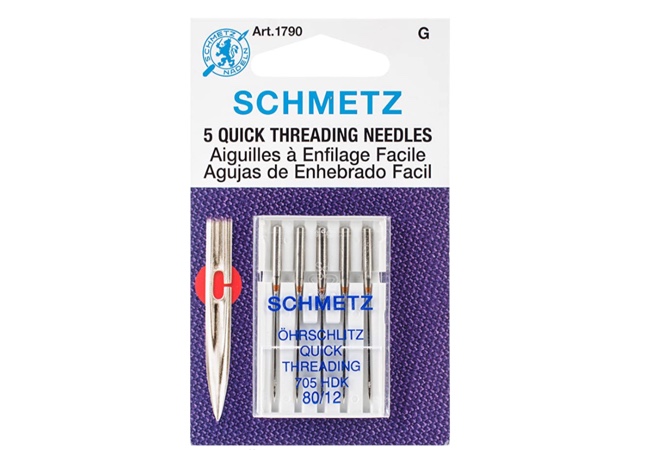 Check the sewing machine self threading needles latest price on Amazon here!
If you ever have trouble threading the needle, then these will make it easier for you. They have a small slit close to the eye that lets the thread slide easily into the eye. They only come in sizes 80/12 and 90/14, so are somehow limited.
---
5 – Sewing Machine Needles For Stretch Fabrics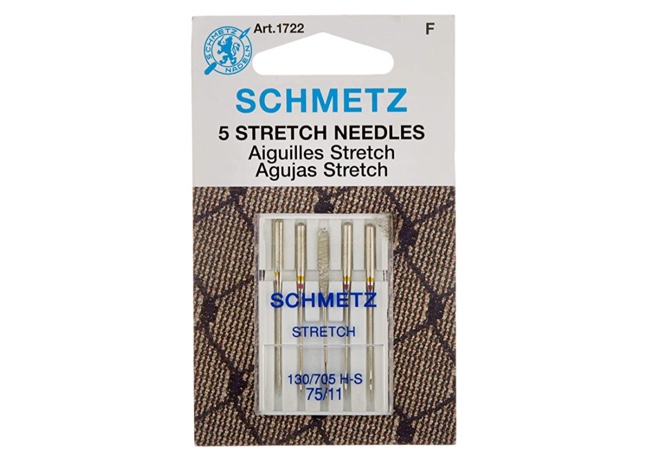 You can also find these needles in the market as Stretch needles, and as the name suggest these needles are used for stretchy fabrics, and are designed so that you won't brake or skip stitches when sewing stretch knits, Lycra, swimwear, etc.
---
6 – Sewing Machine Needles For Embroidery
These needles have a sharp point and a large eye that can let you use thicker threads that won't break as you sew, and are usually in sizes 11/95 and 14/90 to accommodate any of the embroidery threads.
---
7 – Schmetz Microtex (Sharp) Sewing Machine Needles
This needle will produce one of the better straight stitches, and is perfect for sewing your denser fabrics such as silks, vinyl, suede, etc. It has a very sharp point to easily sew through even micro fiber materials, but it does need to be changed regularly because of its extra sharp thin point.
---
8 – Chrome Needles by Schmetz
These are a class of needles that are probably the best ever made, and are now available for the home sewer. These needles are a superior strength than ordinary needles, and will last a very long time resisting heat and wear, no matter what type of fabric you are sewing, so you might want to check out the many different Chrome needles available.
---
9 – Ball point Sewing Machine Needles

The ball point needles are designed with a slightly rounded point, that can sew any knit type fabrics. The needle will go between the yarn fibers, and not through them, preventing any unraveling of your fabric.
---
10 – Twin Plus Triple Sewing Machine Needles

Both of these needles are connected to a single shank by a crossbar. You're sewing machine needs a throat plate and a wide enough hole for these needles to work plus more than one thread spool holder, . Is recommended to always check your sewing machine manual when using the double or triple needles for sewing.
You can use the double needle for decorative, hems, etc., and the triple also works well for decorative stitching or hemming.
---
11 – Organ Needles
The Organ needle Company started in 1920 in Tokyo, Japan and produces some very excellent needles.
Their universal needle has a flat shank, with a very slightly rounded point and are excellent for sewing knits and woven fabrics, and will work with many home sewing machines that are on the market today.
---
12 – Topstitch Needles

This needle can be used for quilting, piecing, general sewing, and embroidery.
They have a large eye for any of the thicker threads, and a sharp point to pass through the heavy fabrics.
There are also titanium coated top stitch needles, that will last much longer than others from superior needles.
---
13 – Singer Titanium Needles

These are the regular point needles and are designed for both lightweight and heavyweight fabrics.
The needles can be used in sewing machines from Singer, Brother and Kenmore, plus with titanium they are designed to last 4 times longer than your ordinary needles.
They are also color coded to make it easier to pick the right one for the project you're working on.
---
14 – Sewing Machine Needles For Leather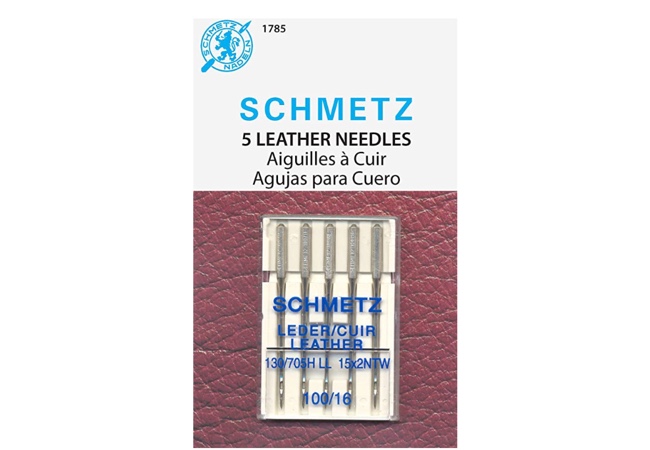 These needles are made for heavy-duty sewing, and will pass through the leather smoothly, plus you will find that there are different needles for the variety of thickness in the leather.
Most of these leather needles have a chiseled sharp point to cut through the leather, and the company Schmetz makes an excellent quality leather needles.
Related: Best Sewing Machines For Leather
Sewing Machine Needles, Out Final Thoughts
We hope this review of some of the best sewing machine needles for your projects, gives you a better idea of what needles to use when sewing.
We have found that it's often best to change your needle about every 6 to 8 hours of sewing, because when they get a little dull, the stitches don't turn out with the quality of a new needle.
One of the better sets of needles we like is the universal sewing needles by Schmetz, which is reasonably priced for what you get and there are many other excellent sets of needles on the market.
Wishing you all the best on your sewing projects – Happy Sewing!
Related: Best Hand Sewing Needles –
Thanks so much for sharing our blog on your Social Media