When you love to sew, you want to have the 10 Best Hand Sewing Needles in the pincushion to help you to keep working on your sewing projects and get professional finishes.
When working on any sewing project, some steps should be done by hand, basting stitches will help you to sew on your sewing machine and sew accurate seams, basting stitches will help also to feed smoothly two or more layers of fabric to the sewing machine.
Tailors and dressmakers always have a good selection of different needles on their work table or next to the sewing machine as they know the importance to have one needle to help them to work on each step of any sewing project.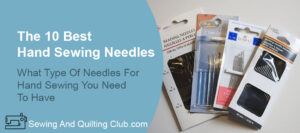 As a beginner sewer, you might want to know which is the best hand sewing needle you need to buy, but the best tip I can give you here is you will need to know first what type of sewing projects you like to work on and what type of fabric you will be working with.
Hand sewing needles are made for different purposes, some sewers might have just one brand or one type of needles they like to work with, but some sewers like to have a different needle for each sewing task and the reasons are good, each needle is designed and made to help you to get the best results.
So let's take a look to what type of needles I will recommend you to have in the sewing tool basket.
Best Hand Sewing Needles
Best Hand Sewing Needles You Must Have In The Sewing Tool Box
1 – Best Needles For Basting
As a sewer you know you'll be working on basting your sewing projects to get better results, making long stitches to keep two or more layers of fabric together as you sew them on with your sewing machine.
Dritz is a well-known brand for sewing tools, they have in their stock these needles designed and made for basting, these needles are made with quilters in mind, but you can be sure they will work great when you work on different projects from making a new dress or making some home decorations.
These needles come in a package of 6 and with a length of 57.75 mm and with the right thickness to help you to do the basting on any type of fabric in less time.
The eye on these needles is big enough to make it easy for anyone to do the threading
Pros
Great quality
Sharp enough
Big eye for easy threading
Affordable
Cons
Some people have reported some package problems, but needles are made with high quality.
2 – DMC Embroidery Needles
If you love to sew, then I'm sure you might love also to do some embroidery, then you need to have in the sewing room one package at least of good quality embroidery needles and you know DMC brand is always the best.
After a few years of doing some embroidering with any type of needle, I tried the DMC embroidery needles and it was the best I could do, my embroidery was better and every stitch looks great.
Embroidery needles are designed to help anyone who loves to do it, get the work done with a professional look, stitches are easy to make and these needles help you to work faster and better.
As soon as you take one of these needles in your fingers, you will notice they are built strong, with a sharp point and the eye is big enough to be threaded easily.
Pros
DMC brand is world known by its high quality
DMC embroidery needles last forever!
Threading can be done so easily
Cons
I don't have any con to add here.
3 – Large Eye Stitching Needles
You will need to have a set of large eye stitching needles in the sewing tool basket as they are good for any sewing task you need to use thick thread or multiple threads in the needle.
When a sewing projects needs some big stitching with threads thicker than normal, a large eye needle will help you to work on this task with ease. These needles are designed thicker than a regular needle and sharp enough to go through the fabric making a hole on it where the thick thread can go smoothly.
By using the large eye stitching needles you don't make any damage on the fabric or on the thick thread as you work with them.
The large eye stitching needles are also good for young sewers who are just learning to thread a needle and work on big stitches on a project.
4 – Applique Needles
If your sewing projects include some handmade applique, you need to have Applique Needles in the sewing room. These needles are designed to help you to work with ease as you do the applique on your projects.
The applique needles are designed to work with 30 % less friction, by this means as you work to stitch a folded piece of fabric to a garment, the needle will go smoothly through it helping you to do the hand applique in no time and with perfect stitching.
Pros
Designed to help you to work with ease on the applique
Sharp enough to go through the folded piece of fabric
Sharp point last long
Thin but strong
Cons
Eye on the needles is tiny
5 – Doll Hand Needle
Doll Making, Upholstery or some Crafts
When talking about making different sewing projects, you might have in your list to make some dolls, for projects like this you will need a long and strong needle with a big eye.
Dritz have designed these 3 inches long needles, thick enough to be strong and help you to sew through thick projects with or without stuffing, these needles have a large eye so you can use strong and thick thread.
These long needles will help you to work with ease on thick projects or stitching thick materials.
You can use these needles for many projects such as stitching big stitches to decorate your knitting or crochet projects, decorate denim or flannel garments, or tie up quilts.
Pros
Good quality
Smooth
Can be used with regular thread or even with yarn
Cons
Eye might not be quite big for some thick thread or yarn
6 – Beading Needles
Whether you're into making jewelry or not, there will come the time you might want to add some beads to a garment or a sewing project.
Beads have small holes and it will make you hard to work on it if you don't have the right type of needle to do this step on your project.
Beading needles are thin and in some cases are long and flexible, this will help you to take one or more beads at the same time and allows the thread to go smoothly through the bead's hole.
Pros
Thin and flexible
Long to allow you to take one of more beads at the same time.
Beads needle will help you to work fast when working on adding some beads to a garment.
Cons
As these needles are thin, they don't last long.
Bend easily
Needle eye gets broken easily
You need to buy a few of them if you use them often
7 – Singer Assorted Needle Package
If you're looking to get a package with assorted needles, then you might want to take a look to the Singer Assorted Needle Package.
Singer is a well know around the world, and sewing beginners and the more experienced know this brand always delivers high quality sewing machine and sewing tools to help any sewer to work better and faster on any project.
I had the chance to test one of these needles when I visited a friend who also likes to sew, I was impressed by the high quality of the needle and how sharp the point was!
Pros
Good quality
Sharp point
One package comes with different types of needles for different sewing projects or tasks
Cons
When you buy an assorted needle package, you might end using one type or two and never use the rest.
8 – Dritz 30 Assorted Needles
When looking for a package with different size and type of needles, you know you can count on Dritz, a brand well-known by sewing beginners and those with more experience.
When you get a package of needles from Dritz you will get a good set of different needles to work on different tasks on your sewing projects, from basting to hem stitching and even why not, to do some embroidery, this package of needles will help you to get everything done on any project.
Pros
One package of needles that has a good variety of needles
Good quality
Last long
Cons
Same as on previous set of needle from Singer, you might end using just one or two type of needles and you will never use the rest.
9 – Self Threading Needles
When you love to do hand sewing, you might want to keep sewing even when light is not the best, to help to prevent eye's strain, having a package of self threading needles will help you to keep working on your project even at night.
Threading a needle can be hard for many, there is a trick to do it but not many sewers will get good at it, and I know by my own experience, sometimes threading a needle can take a few minutes and it looks a waste of time every time it happens!
Pros
Threading a needle is so easy and it only takes a few seconds
Cons
Sometimes it's hard to keep needle threaded
10 – Large Eye Plastic Needles
Where you love to sew and there are young children around you, a good idea is to have a few of these large eye plastic needles in the sewing tools basket.
Children love to sew and they will ask you to allow him or her to try, the best way to start is by doing some free stitching in an open woven fabric with a colorful yarn and with a plastic needle, this way the kids will be safe and will enjoy the time spent sewing.
Another good reason to have some large eye plastic needles is when you love to do some crafts with yarn or when you need to add some embroidery to a knit fabric or a knitted garment.
Pros
It will help you to thread the needle easily when you're working with thick thread or yarn
It will work great when you love to do some crafts
Excellent choice for very young sewers who want to give a try to sewing
Cons
These needles don't last long, if your kid loves to sew with this type of needles often, you will need to buy more than one package.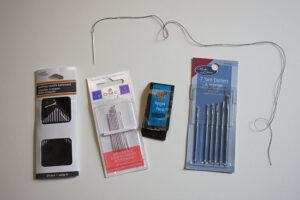 Why To Buy Different Needle Types?
As you start to sew, you might just try one type of needle, but as you keep sewing, soon you will see how a good deal of different sewing tasks a sewer should do on a project.
Needles are designed with sewers in mind, as manufactures know sewers will be doing different sewing tasks, they have studied how a needle can help any sewer to do every task better, faster and with less work.
I used to have just one type of needle in the pincushion to do all the sewing task, but as I try different types of needles, I'm convinced how well every type of needle works.
Today, when I have a new project to sew, I see what sewing tasks I will be working on, and I'm sure I will get the right tools to work on it and hand sewing needles goes to the list too.
Why Some Needles Bend?
Not all needles are made for the same purpose, some needles need to be flexible to help you to work on specific sewing tasks, I find these flexible needles tend to bend fast, and I need to get a new one.
Why Some Needles Get Oxidized?
As you work on hand sewing, your hands will sweat, if you love to sew and you often sew with the same needle, it might get oxidized soon, you need to discharge this needle and get a new one as the oxidized can get into fabric and make some oxide spots on it.
When and How To Discharge Needles?
Needles with use can bend and get oxidized and it's point can get dull, then is time to get a new one, when discharging a needle, you need to protect people who work for garbish companies, put the needles you don't use anymore in a small plastic container and put a label on "Needles" so they will know what they are.
Closing Thoughts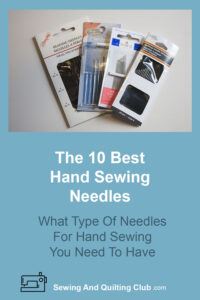 Sewing is a creative activity many love to do, if you're into sewing, you might want to know what types of hand sewing needles you should have in the sewing tools basket or in the pincushion.
The best tip I can give you is to try as many different types of hand sewing needles, this way you will know which ones work best for you while working on different sewing tasks of projects.
Once you know which types of needles works better for you, be sure to have a few of them in the sewing room, this way you won't need to stop working on a project because you need to drive to the store to get just a new needle.
Hope you find this article helpful and you can get all the hand sewing needles you need to keep sewing.
Happy Sewing!
You can also read:
10 Must Have Sewing Tools – Sewing tools can help you to get those amazing professional finishes on all your sewing projects!