There are many good Reasons To Sew An Eco Friendly Bag, but may be that it will help to stop using many plastic bags when making groceries.
When you think about one fabric bag made by you, it can help you to stop as many plastic bags as 1,000 times! With this number in your mind, you can help the planet to be a better place.
Today, I want to share some good reasons why adding to your projects to do list, making an eco-friendly bag, is a good project to make and there are many easy tutorials for beginners and more advanced sewist where you can pick one to make.
Reasons To Sew An Eco Friendly Bag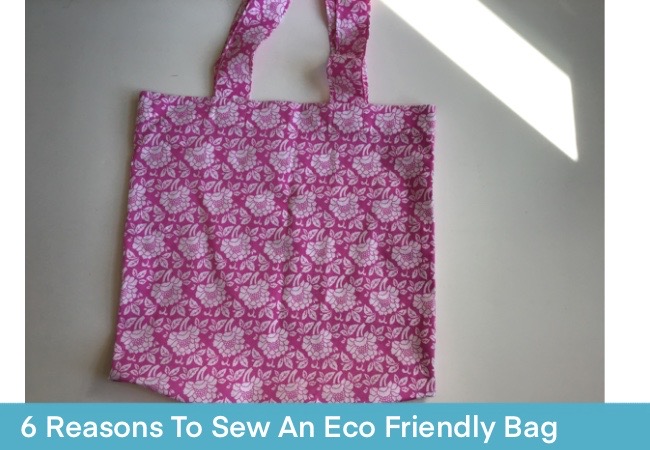 1. Bags Made Of Fabric Are More Resistent, And Last Longer
Bags made of fabric, can hold better heavyweight and will last longer, this is due to the material these bags are made of. Most of the fabric bags are made of cotton, polyester, or a blend of fibers, and this give these fabrics the strength to hold your groceries, or any other shopping item.
Fabric in general is a material that will last longer that plastic, for this reason you can use a fabric bag for many years, and with this, comes the fact that these bags can be washed as many times as you need to keep them clean, and they can be hung on the laundry line, and get dried by the sun, so this means you will be saving some energy too.
2. A Fabric Bag Can Help You To Save Some Money
Everytime you get a plastic bag when you're doing groceries or any other shopping, you need to pay a few pennies for each plastic bag. Paying some pennies for each bag, might not look like too much money to pay, but when you make numbers of how many plastics bag you need to pay for every month, you might be surprised you already spent some dollars.
Investing your money on a pretty cotton fabric to make a shopping bag, in long term, will help you to save some good money!
3. Take Your Fabric Bag Anywhere
When you make your own shopping bags, you can choose a fabric that will have the strength needed to carry heavy items in it, but it also can be light enough, this will help you to fold it compact to carry it with you in your bag or in your car.
4. Sew On A Fabric Bag In Your Own Style
When shopping for an eco friendly bag, you might like a few things on the bags you find at the stores, but they might not be in your style or taste, when you love to sew, you can pick a pretty cotton fabric and find a pattern to work on it, or you can design your own pattern, this will be easier for you, and you can make it simple, or you can add one or more pockets to get everything organized.
Don't forget that you can make your own eco friendly bags the size you need them, some bag will be perfect in a small size, but sometimes you will need a big bag.
5. Help The Planet To Be More Sustainable
Today is a reality that there are wasted plastic everywhere, and with this, many problems happen.
When you love to sew, making one or two fabric bags will take you only a few minutes, as this is an easy project to make, and it doesn't need to be perfect, and it's a way to learn more about different techniques, as you can sew a simple grocery bag, or a fold able fabric bag, or a drawstring bag.
6. An Eco Friendly Bag Is A Perfect Gift To Give
When you want to help the planet to be a better place, your family and friends may have the same idea, for this reason, they will love if you make an eco friendly bag for them.
An Eco Friendly Bag made by you, can be used as a gift bag, and the receiver will use it many times, and will remember you every time the bag is used!
Wrapping Up
The planet needs our help, as sewers we can make a few reusable bags, for our family, and for our friends too, Making a fabric bag is an easy sewing project to make that can be made in a few minutes, and it can be used many times!
Related Posts:
Thanks so much for reading my blog!