The Juki HZL-F400 Review, this is a computerized sewing machine to be mainly used for sewing projects around the home.
It has a superior stitch quality and is an ideal machine for doing quilting, plus is strong enough for any experienced sewer who wants to sew just about everything from light to heavyweight materials.
The machine comes with many of the newer up to date features to make any sewers' life easier, and having been producing sewing machines since 1947, Juki products are known for their innovative technology and excellent quality!
Juki HZL-F400 Sewing Machine Review
For Who Is The Juki HZL-F400 Sewing Machine?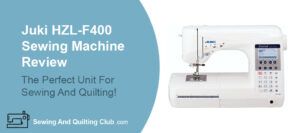 This sewing machine was designed and built to help sewers' and quilters of all levels to work on all their projects with ease, this model has all the features sewers' and quilters need to start as beginners and get all the skills you need to work on your projects.
Below we will mention some of the features of the F400, and you can see if they are a match for you're sewing needs.
The Juki HZL-F400 Comes With 157 Sewing Stitches
The machine comes with 157 sewing stitches, and are displayed under the top cover for easy viewing.
It also has 16 different buttonholes and 3 letter fonts.
It has the basic practical stitches, decorative stitches, quilting stitches, letters, buttonholes, and more to choose from.
The stitches patterns are numbered so it's easy to select your stitch on the LCD screen where it also shows the recommended foot for the chosen stitch, and the length and width can be adjusted as well. The maximum stitch length is 5 mm
There is also a handy reverse stitch button just on the front of the machine to lock up the stitches when pressed.
The machine will sew at 900 stitches per minute.
Bobbin and Threading
To wind the bobbin on this machine, just follow the threading guides on top, and to start the winding move the bobbin winding regulator towards the bobbin as it has an independent motor for winding, also when bobbin is full it will stop automatically.
This sewing machine has a top loading bobbin so just remove the cover and drop in bobbin with thread coming off counterclockwise, and follow the thread guide plus it is not necessary to pull out thread.
To thread the machine follow the arrowed guides down to the needle threader, and use it to thread the needle, plus if any problems arise, just check the instruction manual.
Free Arm
This machine has the free arm ability by removing the accessory drawer gives you access to sewing pants, sleeves, cuffs, etc.
Light
This model has a bright LED light to give the work area good illumination if you are sewing darker fabrics, and it will save any eye strain.
The Juki HZL-F400 Comes With 8 Presser Feet
Standard presser foot
Overcasting foot
Blindhem foot
Automatic buttonhole foot
Patchwork foot
Zipper foot
Walking foot
Manual buttonhole foot
To change the presser feet, just raise the foot with the lifting lever, then push the release button at the back of foot, and foot drops off, then snap a new one in place.
Each foot is lettered to match up with the stitch you're using, and will be displayed on the LCD screen.
There is also a dial on top of the machine for adjusting the foot pressure according to the type of fabrics to be sewn.
The presser feet can be raised and lowered with the knee-lifting lever which is so handy when quilting or sewing.
Feed Dogs
This sewing machine uses what's referred to as box feed which will give perfect seams, and an outstanding feed performance of the fabric from light to heavy.
To raise and lower the feed dogs, the accessory case has to be removed to reach the drop feed button.
Accessories for the Juki HZL-F400
8 presser feet
4 bobbins
Quilt guide
Spoolcaps – large, medium, small
Screw driver
Auxiliary spool pin
Seam ripper
Twin needles
Knee lifter lever
Hard case
Foot controller
Power cord
Instruction Manual
Control Buttons.
We will mention some of the control buttons on this machine.
Start/stop button – just above sewing area.
Reverse stitch button – when pressing the machine sews a reverse lock stitch
Speed controller – slow to fast
Thread trimmer button – will cut both bobbin and needle thread
Needle up/down button
Presser foot pressure dial for adjusting.
Drop feed knob – behind accessory case.
Thread tension dial adjuster
Operating buttons under the LCD screen.
Foot control has the ability to cut the thread from needle and bobbin by pressing back with the heel of your foot on the pedal.
With the computer you can save up to 70 patterns, and combine decorative stitches and lettering into new combinations, plus there is an on-board sewing guide when ever help is needed.
Thicker fabrics can be sewn with this machine such as leather, denim or canvas.
Specifications For the Juki HZL-F400
21 pounds weight
900 stitches per minute
18 inches long by 11.5 inches high by 8.25 inches deep.
8 inches by 4.5 inches work area
Warranty
The warranty for the F400 is 5 years against mechanical defects, and 2 years on the electrical defects, and 90 days adjustment on defects in material or workmanship.
As always, best to check warranty when first purchasing.
The Pros and Cons For the Juki HZL-F400
Pros
Advanced feeding technology
Has free motion quilting
Light enough to move around or even take to sewing classes.
Has the up to date features.
Easy to set up and start sewing
Has knee lifter
Cons
Why Should You Buy The Juki HZL-F400 Sewing Machine?
This sewing machine is in the $$ price range and it has everything you need to help you to work with ease on all you're sewing and quilting projects, it comes with a built-in knee lifter, free motion quilting, and an automatic thread cutter. Another plus of this model is that you get the high stitching quality from Juki, and this model also handles well while stitching with invisible thread!
Where To Buy The Juki HZL-F400
You can find this sewing machine on the shelves of speciality stores and with the sewing machines dealer in your area, but you also can check today's price on Amazon.
You can read also the Best Sewing Machines For Free Motion Quilting
Juki HZL-F400 Sewing Machine Review – Our Final Thoughts
As Juki company produces some of the best quality sewing machines on the market today, we would recommend the F400 for your quilting or sewing projects.
There is an abundant amount of new up to date features to make you're sewing life easier with this model.
The positives for this machine outweighs any negatives, and would make a perfect addition to anyone's sewing room.
If you're a beginner or the more experienced sewer, you will find the Juki HZL-F400 sewing machine very easy to work with.
Wishing you all the best on you're sewing projects, happy sewing!