The Juki DX-2000QVP Review, this is a computerized quilting and sewing machine, it comes with many of the newer features to make your sewing so much easier, and is well-known for its durability and performance.
So you ask yourself what is the best sewing machine for you and what you might need in the future.
A few hundred dollars or less can get you a basic sewing machine for sewing clothes, crafts, or quilting, but if you're looking for a machine of better quality, and more features then the Juki DX-2000QVP could be what you're looking for.
But the machine does not come at a cheap price, and is in the range of $1500 to $2000 or more.
Juki DX-2000QVP Sewing Machine Review
We will run though the features found on this machine to see if they are a match for your sewing requirements, as many of its newer functions have come about by the fusion of industrial and home sewing technology.
The Juki DX-2000QVP comes with 287 Stitches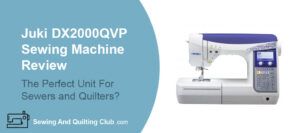 This model comes with 287 built-in stitches, 4 fonts and 10 buttonholes, and the computer is able to save 10 often used stitch patterns.
It has practical and direct stitches, decorative, and about 80 quilt stitches patterns plus the buttonhole stitches and letters, there is a wide variety to chose from.
The maximum stitch length is 5 mm, and the maximum stitch width is 7 mm, and this machine is able to sew at 1050 stitches per minute.
The stitches are numbered so are easy to pick out, and presser foot is recommended for each stitch on the LCD screen, plus width and length can be adjusted.
The machine also has the automatic lock reverse stitch function for tying off stitches.
Bobbin And Threading
To wind the bobbin on this model follow instruction guides on the top. A separate motor for bobbing winding is used on this machine, so you can wind the bobbin at any time.
The bobbin winding regulator works as a switch when pushed towards the bobbin to start winding, and when finished winding it will stop automatically.
This model has the top drop in bobbin case, so just drop it in with the thread coming off counterclockwise and follow guide for thread, and thread does not need to be pulled out to start sewing.
To thread the needle just follow the 5 steps guides down to the needle threader, and with the presser foot lowered use the needle threader and you're ready to sew.
There is a thread tension adjustment dial, which when set to automatic is good for most fabrics, but for some fabrics it might need to be adjusted.
Free Arm
On this model by removing the accessory tray it gives access to the free arm for sewing sleeves, shirt cuffs, pants, etc.
The Juki DX-2000QVP Comes With 2 LED Lights
This sewing machine comes with 2 LED lights to give a bright viewing to the work area especially when sewing darker fabrics.
The Juki DX-2000QVP Comes With 17 Presser Feet
This model comes with a good variety of presser feet to help you to work on any type of project.
Standard presser foot – for straight and zigzag stitches
Zipper presser foot
Overcasting presser foot
Blind stitch presser foot – used for hems or pants, skirts, or sleeves.
Buttonhole presser foot
Manual buttonhole foot – for decorative and letter stitches.
Walking foot – used for difficult to feed fabrics.
Patchwork foot
Smooth presser foot
Open toe presser foot
Quilt presser foot
Edge sewing presser foot
Cording foot
Pearl attaching foot
Cording and Embroidering foot – used in free motion quilting.
Applique foot
Presser foot with guide
Each foot is lettered for easy referencing on the computer screen. To change the feet press the release button behind the foot dropping it out of place, then snap a new one in place.
There is a knee lifting lever with this machine, so you can control the position of the presser feet, and have both hands free for your quilting.
The presser foot lifting lever just behind the foot has 3 positions, with the extra high position for heavier materials, and the machine also has an automatic lift button plus it has the function you can set to lift or lower the foot by the foot controller.
There is also a presser foot pressure adjusting dial, which is usually set at 5 for general sewing.
Feed Dogs
This model has the box feed technology which keeps the fabric contacted with the feed dogs longer for a consistent reliable seams every time, giving high quality stitches on any of your fabrics.
To raise or lower the feed dogs the switch is located just behind the accessory tray which is easy to remove.
Accessories For The Juki DX-2000QVP
Presser feet
Thread stand
Wide table
Throat plate for straight stitches
Auxiliary spool pin
Bobbins
Spool cap – large, medium, small
Needle set
Cleaning brush
Screwdriver
Quilt guide
Eyelet punch
Twin needle – one set
Seam Ripper
Knee lifter
Foot controller
Power cord
DVD plus instruction manual
Hard Case
Specifications For The Juki DX-2000QVP
1050 stitches per minute
287 built in stitches
5 mm maximum stitch length
7 mm maximum stitch width
21.6 pounds
17 inches long by 11 inches high by 8 inches deep approximately
21.7 inch by 13.1 inch total work area with added table.
Control Buttons On The Juki DX-2000QVP
Start/stop button, above needle area
Reverse stitch button
Lock stitch button
Speed controller – speed can be adjusted while sewing
Presser foot automatic lift button
Needle up/down button
Below the computer screen are 13 other buttons, for stitch selection, mirror image, float function, and more and each is diagrammed in the instruction manual for your learning convenience.
Dial for pressure on presser feet
Dial for thread tension.
Warranty For The Juki DX-2000QVP
The warranty for this model is 5 years on any mechanical defects, and 2 years on electrical defects, and 90 days adjustment on any defects in materials or workmanship.
When buying is always recommended checking the warranty.
Pros And Cons For The Juki DX-2000QVP
Pros

Excellent quilting machine
Superior feeding of fabrics
Has all the modern features to make sewing and quilting easy.
Extra large work area with the extension table.
Large amount of stitches.
Cons

Has a learning curve with all the features
High priced
Where To Buy The Juki DX-2000QVP
Where to buy the Juki DX-2000QVP
You can find it on the speciality stores shelves or with the sewing machine dealer in your area, you can read more reviews and check today's price on Amazon.
Interested on getting a different Juki sewing machine model, you can read the Best Juki Sewing Machines.
Juki DX-2000QVP Sewing Machine Review – Our Final Thoughts.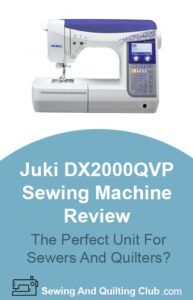 As you can see the positives outweighs the negatives for the Juki DX-2000QVP.
Juki does make very high quality sewing machines that are made to last, and if you're an experienced quilter, this could be the sewing machine you're looking for.
For any beginner sewer there is a learning curve because of its many features, which once learned will make sewing a pleasure to do.
If you're in the market for a great quilting machine to add to your sewing room, then give this one a try out.
Wishing you all the best on your sewing projects – Happy Sewing and Quilting!