The Janome 7330 Magnolia Review is a computerized sewing machine, and very popular with beginner sewers and even some of the more advanced sewers.
Janome is well-known for its high quality, and being built to last, and with this machine being very easy to use and set up it is a very good model to own.
The machine is excellent for creating your home decorations, or any of your sewing projects, and does very good quality stitches in whatever your sew.
The motor is strong enough to sew thick fabrics, as well as any of the finer sewing you might have, and has been able to sew up to 6 layers of denim so that you known the motor can stand up to most of your sewing projects.
This machine also runs very quiet in comparison to many other machines, and comes with enough features for any sewer to appreciate sewing with it.
Below we will run though it features to see if it suits your sewing needs.
30 Stitches And 6 One-Step Buttonholes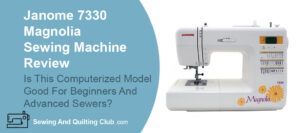 The machine comes with 30 stitches and 6 one- step buttonholes. There are straight stitches, zigzag stitches, a variety of overcasting stitches, and decorative stitches, shell tucking, a satin stitch and you can even combine patterns.
On the LED display screen you will find that each stitch is numbered, and easy to bring up on the screen plus there is the ability to adjust the length and width of the stitch.
The numbered stitches are displayed just below the LCD screen for convenience and maximum stitch width is 7 mm and maximum stitch length is 5mm.
3 Presser Feet
The machine comes with 3 presser feet.
Satin foot
Zipper foot
Automatic buttonhole foot
These are the snap on type, and very easy to change by pushing a red button on the back of the foot holder to release the foot then snapping a new one in place. The presser feet can be raised about a 1/4 inch higher than normal making it easier to change the foot, and the higher positioning can be used for sewing thicker fabrics.
Each presser foot is lettered, and when choosing a stitch the LCD screen will display the foot that's recommended.
The Function Buttons
On the front of the machine just above the sewing area, you will see some of the conveniently placed control buttons.
1 – Off/on button – this button lets you sew without using the foot pedal.
2 – Reverse button – is for back stitching when you want to lock up a seam, and can be used to stop a stitch pattern before its finished.
3 – Locking stitch button or auto-lock – is used to tie off the thread at end of stitch, and is good for securing seams on delicate materials or with decorative stitches.
With the auto – lock you will very seldom have to use the reverse stitch button.
4 – Up/down needle button – used to set the needle to stop up or down.
5 – Speed control slider – with this you have the option to set the speed to your preference, and also when set the pressure on the foot control will only reach the preset speed.
6 – It also has the thread tension dial on the front.
The Bobbin and Threading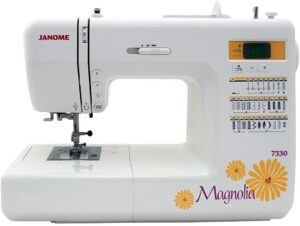 To wind the bobbin on this sewing machine just follow the directions imprinted on the top, and when the bobbin is full it will stop automatically. To load the bobbin this machine has the easy drop in top loading, full rotary hook system which means just place the bobbin in the holder with the thread coming off counter clockwise, and follow the threading guide on the hook cover plate.
With the clear cover you can tell whenever thread is running low.
Threading – To thread the machine follow the numbered arrows down to the needle threader and then use it to thread the needle, and you will find diagrammed instructions for this in the instruction manual. The thread that works well for this is number 50 to 90 and needles # 11 – 16
Free Dogs
This Janome comes with a 7 piece feed dog system which will insure your sewing fabrics move smoothly under the needle while sewing. The feed dogs can be raised or lowered by a lever in the back of the machine, but only accessed by removing the extension accessory storage table, which some will find a bit inconvenient.
Free Arm And Storage Area
By removing the accessory storage extension you will have access to the free arm for sewing cuffs, pants, sleeves, buttons on shirts or any other hard to sew items.
Lighting
The machine has a light for the working area, but the bulb is rated 12 V 5 watts, and some sewers would like to see it brighter.
Accessories For The Magnolia 7330
Assorted needle set
3 presser feet
3 bobbins
Felt
Foot controler
Power cord
Screwdriver
Seam ripper
Spool cap-small
Spool pin -2
Spool stand
Instruction manual
Specifications For The Magnolia 7330
14.8 inches by 10.8 inches by 6.6 inches
18.2 pounds – easily portable and has a carrying handle
5 mm maximum stitch length
7 mm maximum stitch width
Strong aluminum frame
Work space 6.2 inches by 4.7 inches
Warranty
The machine comes with a 25-year warranty, and 5 years on the electrical parts, plus 1 year of labor service.
Pros And Cons For The Magnolia 7330
Pros
The machine runs quiet
Very convenient to operate for anyone
Will sew thick and thin materials with excellent stitch quality
Has larger clearance of presser feet for larger sewing projects or quilting
Janomes are built to last
Reasonable priced.
Cons
Working light could be brighter
Lever for feed dogs could be more convenient
No carrying case
No quilting presser feet
Is The Janome 7330 Magnolia Sewing Machine Good For Beginners?
If you're a beginner who has tried out a sewing machine from your mom or from a friend, you might have a pretty good idea on how a sewing machine works, then this model will be good for you as it's an easy to set up and start working with. It comes with speed control so you won't have any problem to start working with it on a slower speed.
You can take a look to the Janome 7318 Magnolia Mechanical Model here!
Is This Sewing Machine Good For Making Quilts With It?
If you have in your project list to make quilts with this model, you will be happy to work with it piecing all type of tops for your quilts, when the time comes to work on the free motion quilting, this model will have the drop feed dog system feature to allow you to work on it, however you will need to purchase the quilting presser feet from the Janome brand.
Can This Sewing Machine Work With Thick Fabrics?
This is not a heavy-duty sewing machine, and it won't sew thick materials as leather or canvas, however it can handle to work with good results when you work with denim and multiple layers of fabric.
What Projects Can This Sewing Machine Be Good For?
This model is designed and built to work on many different projects with good results, you won't have any problem to work on garment constructions, home decor, making crafts and even making beautiful quilts!
Why Should You Buy The Janome 7330 Magnolia Sewing Machine and Not Other Models From A Different Brand?
Janome is a well-known sewing machine brand, that has been on the market for many years and is known by the high quality models that will last for many years in your sewing room. This model comes being well-designed and build to help beginners and intermediate sewers to work with the best results on many different projects!
Where To Purchase The Janome 7330 Magnolia Sewing Machine?
The Janome sewing machine are often easy to find on the shelves of specialty stores as fabrics or crafts, but you will have no problem to find them also in the popular stores as Walmart.
Janome company is always interested to help you find this and the rest of the Magnolia family of sewing machines in stores offline and online.
You can check today's price on Amazon here!
Our Closing Thoughts On The Janome 7330 Magnolia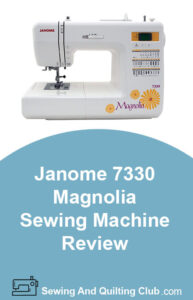 This is actually a very good sewing machine that any sewer would love to have in their sewing room.
It's not recommended for sewing leather but is strong enough for all your other fabrics, and has enough features to make your sewing tasks easy.
The positives outweigh the negatives on this sewing machine, and having a very reasonable price tag is well worth anyone's time to take a look at it.
Most sewers that own this machine give it a 5 star rating, so you might want to give it a test out.
So our conclusion is that if this sewing machine matches up to what you are looking for, give it a try!
Wishing you all the best on your sewing projects – Happy Sewing!