The Janome 1600P-QC High Speed Review, this is a straight stitch sewing machine, built with heavy-duty metal, and made to last.
It's a single stitch only machine, that can sew just about anything. Also, makes an ideal machine for doing quilting and other sewing you have around the home.
If you're looking for a no frills sewing machine that runs like a heavy-duty industrial machine, then this one is for you.
Janome 1600p-QC High Speed Review
Features
Quiet and smooth running
Variable stitch length up to 6 mm
Up to 11 pounds of presser foot pressure
Memorized needle up/down
2 LED lights
Work area of 8.85 inches by 5.5 inches
Threading diagram on front of machine
Bobbin winding diagram printed on top
Synchronized thread tension lever
Knee lift
800 to 1600 stitches per minute
Auto Thread cutting
Pressure Indication window
Adjustable speed control
Sealed bearings on its shaft meant to last
Side-stocking industrial rotating hook
Foot control
Industrial pretension threading
Setting plate with metal attachments
Industrial-type thread take up lever
Sensor prevents machine starting with presser foot up
Weight 5 kg
Long Arm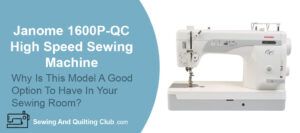 The long arm on this machine is 9 inches, which means there is 9 inches from the needle to the inside of the machine, giving room for your larger sewing projects.
Thread Cutter
There's an automatic thread cutter where you just press the button on the front of the machine that has a scissors display and the thread from the top and the bobbin are cut
The machine also has a port to connect up a remote switch for thread cutting.
Forward And Back
Just below the thread cutting button is a paddle or lever that allows you to sew backwards and forwards stitches if you need to reinforce your sewing in places.
Adjusting Stitch Length
To the right of the thread cutting button is a small display window indicating stitch length from 0-6 mm and an adjusting knob just to the back of the machine for setting your stitch lengths.
Needle Up/Dow Positions
There is a button on the front of the arm of the sewing machine where you can control the up/down position of the needle, and after thread cutting the needle will always be in the up position.
This button has 2 small indicator lights, usually a red and green, so at a glance when finishing sewing you know just where needle is positioned.
Bobbing Winding
On this machine the bobbin winding works separately from the main motor, so you have the ability to wind the next bobbin even while you're sewing.
Speed Control
The speed of your sewing can be controlled with a sliding adjustment, just on the front of the machine, so when using the foot pedal at 1600 stitches per minute, you can also control the speed.
Foot Pressure
The 1600P-QC gives you 11 pounds of pressure at the presser foot, so you can sew through the thickest layers of fabrics.
It has an indicator window above the threading diagram and a button on top, so you can set the pressure to your liking, 3 for your regular sewing, and reducing the pressure for lighter fabrics.
Thread
The machine has a pre-tension thread regulator, that removes any twist or turns in the thread before reaching the tension adjuster.
Bobbin
The machine has a side loading industrial rotary hook bobbin, and also has a built-in needle threader
Ergonomic Knee Lift
There is also a knee lift to raise the presser foot up, which is very handy when quilting or positioning fabrics.
Accessories
Knee lifter
Lint Brush for cleaning
Spool holder
Bobbins
Large and small screwdriver
Accessories box
Spool cap
Hemmer foot
1/4 inch foot
Adjustable cloth guide with screw tighter
Instruction Book
Needles
Oil
Warranty
The Janome warranty is for 25 years with a 5-year on the electrics from date of purchase, and free of charge labor for a year from time of purchase.
Pros
Easy to use for intermediate sewers and quilters
Sturdy
Fast speed
Sew smooth
Separate Bobbing Winding Motor And Thread Path
You can have two cones of thread on your sewing machine, one to sew and one to wind the bobbins, this feature is a plus, as while you work on the sewing machine, you don't need to unthread the machine every time you need to wind a bobbin, it will save you tons of time and work, and your machine is always ready to work with it.
Automatic Thread Cutter
This features is a plus also in this machine, it works perfect every time and it will save you tons of time and thread
Cons
Only Straight Stitch
A little bit noisy – As this machine is a semi industrial sewing machine, you might find it noisy, a good tip is to place a fabric place mat or a mini quilt under to absorb some of the noise.
Can I Make Free Motion Quilting With This Sewing Machine?
Yes you can work on the free motion quilting on any quilt size with this Janome sewing machine, as it is designed for sewers and quilters.
However, you might need to take your time to get used to work with it as you try a sampler quilt sandwich to work with it. The link I'm sharing to buy this model has a bonus of 3 quilting feet, one of them is the Darning foot and the darning plate.
The darning plate will cover the feed dogs so you can move your quilt as you work on the free motion quilting.
I Don't Make Quilts, Is This Sewing Machine For Me?
From my experience I can tell you, this model will be good for you if you're interested to work on big sewing projects or if you want to start a small home based sewing business.
I had one straight stitch industrial sewing machine a few years ago, and I could make many different sewing projects with it. the speed of the Janome 1600P-QC will help you to work on different projects faster and with excellent quality always, and it won't be hard for you to work for hours on this model as the knee foot lifter is a feature I loved to have in the industrial machine, and it helped me to work faster.
Is This Sewing Machine For Beginners?
It's an easy to use sewing machine, but it has high speed, if you're a beginner and you want to try this model whether to make quilts or to start your own sewing business, I would highly recommend you to take your time to learn how to use this machine on its slow speed.
Don't try it on any project until you feel fully confident to work with it
You can take a look to another straight stitch sewing machine the Juki TL2010Q
Janome 1600P-QC High Speed Sewing Machine Verdict
Compared to other machines, this is an excellent sewing machine with features to make your sewing experience more enjoyable.
It will sew any kind of fabrics for you, and with enough room to accommodate your larger projects.
Basically its only negative is it only sews the one stitch, which is does very well.
For any quilters this is a sewing machine you would love to have, so you might want to take a look at it and give it a test run.
Check today's price on Amazon.com