When you love to do embroidery, you might look at the pretty quilting cotton and wonder if you can use this fabric for your new embroidery project or not.
Hand Embroidering On Quilting Cotton is a great way to give your project a solid color or a pattern background that will make your embroidery work to stand out.
As Quilting cotton is a weaven fabric made of this natural fiber, this makes of it a great fabric to work with on many different types of hand embroidery, from a simple design to be made with a back stitch, to a more elaborated embroidery design.
New and more advanced embroidery artists are working on theirs new designs using quilting cotton as this fabric is easy to work with and the results are always pretty.
Let's take a look to some of the benefits to work on hand embroidery on Quilting Cotton
Many Colors and Fabric Patterns
When you're looking for a new fabric for your new embroidery project, you might be tempted to work with quilting cotton, and you won't have any problem to find the fabric you're looking for as there is plenty of colors and patterns where you can pick one.
Whether you choose a solid fabric to work on or a fabric with a pattern on it, your embroidery work will stand out and look always pretty.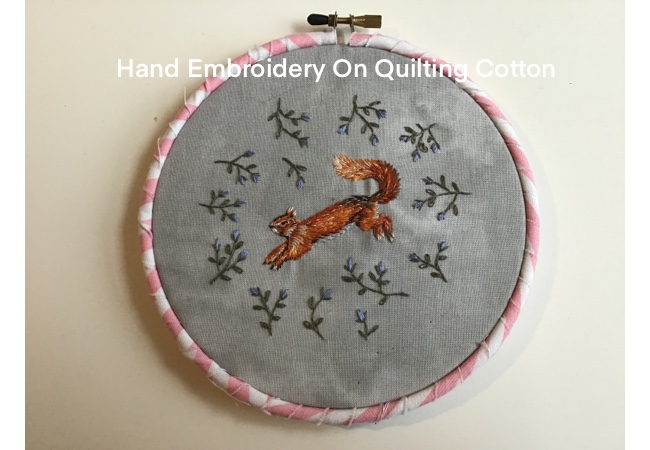 Quilting Cotton Is Easy To Work With It
Whether you'll be working on your hand embroidery with a hoop or not, quilting cotton is always easy to work with it, as this is a weaven fabric, your needle will go through the fabric with ease.
In case, you use a hoop while you work on the embroidery, quilting cotton will stay stretched well on the hoop as you work on your project, don't forget to remove your project from the hoop after you finish working on it for the day.
Where To Buy Quilting Cotton
You can purchase Quilting Cotton on any Quilting Store, but it can be easily found in fabric stores in the quilting fabrics, and on big box stores in the hobbies area.
You can buy quilting cotton by the yard or meter for your big embroidery projects, but you can also buy fat quarters for your small embroidery projects.
Prewash or Not Quilting Cotton For Embroidery Projects
it's well-known that quilting cotton should be prewashed when making a new quilt, as this fabric can shrink and in some cases will bleed after the quilt is washed, the same goes when working on an embroidery project, you're quilting fabric should be prewashed and pressed before working with it on your embroidery project.
In case, you're working with a red or dark color quilting fabric, it should be prewashed, and in case it bleeds, this fabric should be washed as many times until it stops bleeding, by doing this, you can be sure it will be safe to work with it on your embroidery project.
Quilting Cotton Tends To Fray
When working on an embroidery project with any fabrics that tends to fray, people who love to do embroidery know well the fabric should be worked to be safe to work with, some ways to protect your fabric from fraying while you work on the embroidery are:
Make a zigzag stitching on the edges.
Baste your fabric by hand.
Masking tape on the edges. When your embroidery work is done, you can remove the masking tape from the fabric and your project will be ready for the next step.
How To Mark An Embroidery Design On Quilting Cotton
Tracing an embroidery design on quilting cotton is easy as this fabric is thin, and you won't have any problem to trace your design when your fabric has a light color like: white, light beige or any other light color.
When you're quilting cotton has a dark color or a pattern that is hard to see through the fabric, you might need to trace your design by placing your fabric on a light box or on a window with daylight.
Another method to trace an embroidery design on a dark fabric is using a transfer paper.
To Wash Or Not Your Embroidery Project When It's Finished?
As a general rule for embroidery projects when they are finished, they need to be washed and pressed, so the same rule goes when working with any quilting cotton for your embroidery project, unless the instructions tell you not to.
Related: Embroidery Fabrics for beginners 
Closing
Working with quilting cotton on your embroidery projects is a great idea to give your projects an interesting texture, as there are plenty of colors and patterns where you can choose the fabric you'll be working with on your new embroidery project.
Happy Embroidery!