When you love to do embroidery, most of the times you'll be working with natural fibers like cotton, linen and blends, these fabrics tend to shrink, and if you don't pre wash these fabrics, your finished garment might not be the right fit when you wash it.
Embroidery Fabrics Pre Washing Or Not
Embroidery fabrics Pre Washing Or Not, as most fabrics used for embroidery are made of natural fibers, some might shrink, for this reason it is always better to make a test to be sure that your finished project will have the size required for your project.
When thinking about starting an embroidery project, you might prefer to work on a fabric that is made with a tight weave and sturdy enough to help you to work with ease on your embroidery, and this might be the case why people who love to do embroidery don't prewash their fabrics before starting a new project.
Pre Washing Embroidery Fabrics
Let's take a look when I would not recommend to prewash a fabric for your embroidery project.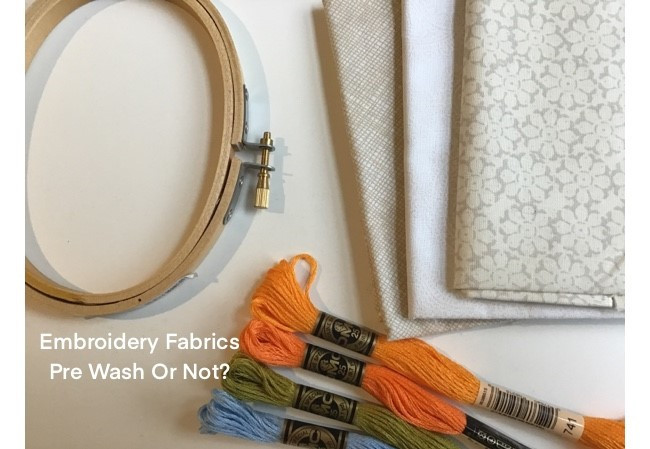 Framed Embroidery
Many embroidery projects will be made to be framed when they are finished, for this reason, the fabric doesn't need to be washed before, as it might never be washed and the risk of shrink will be little.
Embroidery Fabrics That Are Prewashed By The Manufacturer
Some brands state on the fabric information that the fabric is already been washed, before is cut and packed, this will give you a certain guarantee that this fabric will not shrink after you washed your embroidered item when is needed, but as I was looking for more information to learn more if embroidery fabrics need to be prewashed or not, an article got my attention, as it said when any fabric manufacturer prewashes a fabric, they use washing machines or methods that are gentle with the fabrics, for this reason, if you're planning to make a project with your already embroidered fabric, it will be washed with the regular washing machine we all have at home, this fabric might shrink, for this reason, it will always be better to buy more fabric than is needed for the project and prewash a small scrap of this fabric.
Wool Fabrics
If you're planning to add some embroidery to a fabric made of wool, you don't need to prewash it at home, and when your project is finished and you need to wash it, always follow the washing instruction for wool fabrics (dry cleaning).
When It's Better To Pre Wash Your Embroidery Fabric
As more people are giving a try to add some embroidery to fabrics to make a piece of clothing longer, whether is a blouse, a dress, a jacket or a coat, it will be better if you take your time to pre wash and iron your fabric, before you start working on your embroidery, this way the fabric will shrink before you draw the garment pattern and cut it, by doing this, you will be sure that it will fit well when it's finished.
Embroidering An Already Made Item
You might be wanting to add some embroidery to an already made item such as a hat, a blouse, a dress, a bag or even a pair of running shoes that are made of fabric, in this case it will be up to you to pre washing these items or not before you start working to add the embroidery, as already made items are well-made and they will not shrink,
However, if the item you want to add some embroidery on is made of a fabric in a dark color like red, navy blue, brown, purple or black, I will advise to pre wash it, as it might bleed and if you're doing some embroidery with light color thread, your work might get ruined.
If you're planning to work on an already made item made with denim, there is no doubt here, it should be pre washed before you start working on the embroidery, and in some cases, it will be better to pre wash more than once until the color bleed stops.
Related:
Closing
When working on a project to add some embroidery on it, taking your time to pre wash the fabric before you start working on it, will depend on what type of fabric you'll be using.
In general, the rule says to always pre wash any fabric, but in some cases you don't need to follow this rule.
We hope you find all the answer to your questions about whether to pre wash a fabric for embroidery, and if you're planning to do an embroidery project on a fabric that brings some doubts about it, always pre wash a piece of the fabric you'll be using, and if you stitch on a piece of white fabric to it, it will show better if the fabric bleeds or not when washed.
Thanks so much for reading our blog!
Happy Embroidery!