Cool Maker Sew N' Style Machine Review Review, this  is a highly recommended sewing machine for kids, it comes with a Pom Pom attachment.
Kids who want to learn to sew will be delighted to start making their own small sewing projects by themselves,
Cool Maker Sew N' Style Machine Review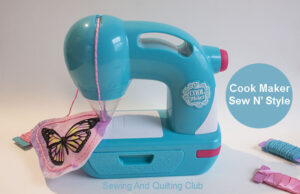 Note: This machine is not a sewing machine, it's more like a felting machine but it will help young kids (6+) to start making their own sewing projects and they will also start learning the basic of sewing with a machine.
I bought it to test it by myself and with the idea to have it at home when I get the visit of my grand children and my friends young kids, so they can play (work) with it.
It Will Help Kids To Learn The Basic Of Sewing
If you're afraid to let your young kids to start sewing with your sewing machine, don't be, and let them take their first steps to sew with this machine, after I tested it by myself I see it works great and it's easy to use.
It comes with finger protections so your kids won't touch the needles as they are covered with a hard clear plastic protection.
As you work with it, you will see it's easy to thread, any kid will do it with no problem at all as all you need to do is to get the string (yarn) through the head of the machine from the back to under the needles, no need of a bobbin so this makes it easier to work with.
Making one of the sewing projects that comes with it by myself, and I see it's easy to handle the fabrics through the needles while the machine is working with no problem at all, kids will learn how to manage to get a project made with a sewing machine.
Safety And Ease-Of-Use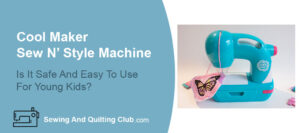 The Sew N' Style Machine is light to handle and it looks strong enough to be used by young kids while they learn the basic of sewing.
It has 5 needles that will do the job of felting to get the two layers of fabric together, it's a different sewing technique, but it will be fun for kids to make different and easy sewing projects.
The machine comes with a protective needle guard that protects the fingers to touch the needles while sewing, your kid's finger will be protected all the time.
It's well known that beginners and more experience sewers had a bad moment while sewing and in some cases they end with a bad injury while sewing, parents with young kids asking to try the sewing machine for the first time might be worried about having an accident of this sort. No need to be worried with this machine, your kid's finger will be safe while sewing.
Looping The Thread Is So Easy
The Sew N' Style Machine is made thinking about young users and it's made with an easy two steps to loop the string in the machine.
The sewing material the manufacture provides is a type of material that can be sewed with no need of the string, as the machine works like a felting machine, they fibers in the material will get felted while sewing, this make the look of sewing your kids projects.
The machine has its own drawer to keep in it all the supplies provided.
The Pom Pom Maker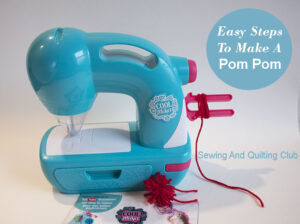 Thinking about giving the kids more fun to make with this machine, the designers thought about a Pom Pom attachment, which is on the side of the machine and it will help users to make the most beautiful and colorful Pom Pom they want to add to any sewing project.
The Thread Is Really A String
The kids won't be working with a regular sewing thread but they'll be working to sew with a string that looks like yarn, which is easier for young user to handle and to work with it.
As I mentioned before, this is not a real sewing machine but it's more a felting machine, with this you can tell the projects your kids will be making may not last long as the sewing projects you make with a regular sewing machine.
However, this machine is made thinking to help young users learn the basic skills they need to work with a sewing machine later.
I will definitely buy this machine for my grandchildren and I will recommend young parents to buy it for their young kids who show interest to learn to sew.
It will help them to get the skills to handle a sewing project on a machine and they will have fun making small projects for themselves and for their friends.
Pros
Ease – of – use
It comes with a protective needle guard to prevent any accident
Pom Pom attachment provided
Comes with 5 different small sewing projects
Cons
Sewing projects might not last long
The Cool Maker Sew N' Style works with 4 AA batteries
Closing
The Cool Maker Sew N' Style Machine is good for young kids ( 6+ ) who want to start making small sewing projects, it will help them to start sewing and to get some basic sewing machine skills.
If your kids love to sew and want to learn more, you might want to help him/her to start with the basic of sewing with one of the mini sewing machines.
Check Today's Price On Amazon.com
Check Today's Price On Amazon Canada