With the growing interest on learning to sew to make all kinds of sewing projects for your home or new garments for yourself or for your family, today you can find a wide selection of the Best Mini Sewing Machines of 2020
As you might be a beginner, you might want to attend some sewing classes or workshops to learn the skills of this wonderful new hobby for you from more advanced sewers.
Carrying with you all your materials to work with at the new class will mean to carry not just one bag but sometimes you'll be carrying two or three, thinking about you, most of the manufactures have thought of the good idea of making mini sewing machines so you can carry yours in a bag that isn't too heavy.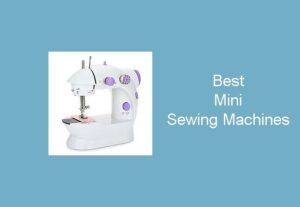 Thinking about this, manufactures have made the sewing machines you can trust on as they make them with the quality so that you can work with them anywhere.
As you learn the new skills on the mini sewing machine, you might be ready to get a sewing machine for beginners or for intermediate or advanced sewers, but you might keep the mini sewing machine to carry it with you to anywhere you want to keep working on your sewing projects, sewing classes, workshops or even on your vacations.
If you're looking for a mini Sewing Machine to take with you to a sewing class or on vacation or to do a small sewing project around the house, then these mini machines reviews should help you out
Top Mini Sewing Machines 2020 Reviews
I've tried some of these mini sewing machines myself and I've seen some friends and some students working on the others models I'm sharing here on this post.
I've seen the convenience of having them when the sewer is a beginner and for the intermediate and advanced sewers to have a light compact sewing machine to bring to the different classes or workshop so we all can keep working on them while learning a new sewing or quilting technique.
The Singer 1234 Sewing Machine
This sewing machine is good for someone starting to sew. It has a quick and easy threading with the stitches having a preset length and width of the stitch, making the stitch selection very easy.
There's also a 4-steps buttonhole feature and the accessories for this model include the zipper foot, all-purpose foot and button hole foot along with a lint brush and a seam ripper.
Extra needles and bobbins are also provided as well as a darning plate and more.
It comes with a Tote Bag project sheet and decals to customize your sewing machine.
Another bonus with this model is that you get access to an online class showing you how to use your new sewing machine.
---
It has 12 preset stitch patterns for your home sewing projects or any crafting or quilting you need to do.
There are 2 speeds with a hand switch or foot pedal to control the low and high speeds.
Also, has a built in needle threader adjustable length and width for the stitches and a place for storing accessories.
It has 2 thread spools, 2 bobbins, 1 needle and 1 adapter, and also requires batteries but the power supply and batteries can not be used at the same time, always check the operating manual before using for the first time.
There is also a 1-year limited warranty on this mini sewing machine.
---
Varmax Mini Sewing Machine
It has 12 stitching settings from zigzag, hemming and more, and also has a reverse function.
There is a universal pressure foot with this machine, but it can be changed to a professional presser foot such as zipper foot or zigzag foot which will be more efficient for your sewing projects, and it also has a 3-month warranty.
For accessories, you get 1 adapter, 1 foot pedal, 2 needles, and threader, 2 spools of thread, one black and 1 white, plus 4 bobbins that are empty and two with black or white thread.
So for a very handy mini sewing machine, this is a good one to try out.
Check Today's Price On Amazon.com
Check Today's Price On Amazon Canada
---
Mini Portable Sewing Machine 2019
This mini sewing machine is about 4 inches wide by 7.8 inches high, and 7.5 inches long, and it has an extension table that helps to stabilize the machine while working with it.
It has the switch for low and high speed, and an on off button, and an automatic winding function that gives you quality sewing for any of your projects.
The advanced 301 version has a built in lamp and thread cutter, and also features a cuff slot for sewing sleeves and legs.
There is also an automatic bobbin for sewing and it comes with 4 bobbins, 1 foot pedal, 1 needle, 1 threader and 1 AC/DC adapter for power.
So for a beginner mini sewing machine you want to give this one a try.
Check Today's Price On Amazon.com
Check Today's Price On Amazon Canada
---
Michley Lil' Sew and LSS-505 Combo Mini Sewing Machine
This little portable sewing machine is ideal for beginners, it's easy to use, light to carry and it will help you to develop the sewing skills you need to work on different sewing projects you want to make in the future.
If you're a beginner or if you want to give a sewing machine to a young person who is already interested on this hobby(9 – 12 years old), you might want to go one more step like starting with a toy sewing machine.
This machine was made to help you to start with this new creative hobby but it won't promise you the moon! You will love to learn to work with a sewing machine while making easy sewing projects.
This is a compact sewing machine with a weight of only 5.4 lbs that makes it easy to carry to your sewing classes or workshops.
Every button on this sewing machine comes with an easy diagram to see that it will help any beginner sewer to use them as you work with it.
If you're looking for a small and light sewing machine to start with your new hobby, you might want to give it a try.
---
KPCB Mini Sewing Machine
This mini sewing machine features upgraded environmental friendly materials that make it more durable and of a better quality, it's 6.9 inches long, 8.6 inches high and 3.5 inches wide.
It comes with a large extension table that helps in stabilizing the machine for smoother sewing, and it has a cuff slot for easy sewing of pants and sleeves.
There is a light so you have a better vision of what your sewing with an on and off button for the light and switch, it also has the speed button.
It has a foot pedal to control the speed of your sewing that plugs into a part on the sewing machine and also supports a battery supply.
There is a built in winding pole and a spool assist to rewind bobbins when the machine is turned on.
In the package with this one you get 1 extension table, 1 foot pedal, 1 E9K/UL adapter, 1 needle, 1 threader for the needle, 4 bobbins and 1 manual.
So for a great mini sewing machine at a low price tag, give this a try.
Check Today's Price On Amazon.com
Check Today's Price On Amazon Canada
---
This is a lightweight machine at only 5 pounds which is perfect for beginners or anyone that travels a lot.
It has 10 different stitches from straight, zigzag, crescent and more, and multiple sewing functions from mending, paper crafting, seaming, zipper insertion, and quite piecing,
The needle has a left and center position, and there is a tension control dial along with a top loading bobbin system with a clear cover, and comes with a presser foot and finger guard for protection, also a four point feed dog system.
There is a reverse lever also, and it comes with bobbins, needle, needle threader and instruction Manuel, and also a tray on the machine to store your thread, needles, and other supplies you might have.
The Janome company is one of the leaders in sewing products, designing their machines for performance, comfort, quality and being easy to operate, so you might want to give it a try out.
Check today's price on Amazon Canada
---
Benefits of choosing a high quality Mini Sewing Machine
As you have decided to give it a try into this new hobby, you might want to get the best quality equipment you can afford to buy, in most of the cases, buying a mini sewing machine won't mean the need to spend big amounts of money, but you want to get the best quality sewing machine you can find in the market.
The good idea to buy the mini sewing machine is to help you to start the first learning steps on your new hobby and for your kids too, you might be learning together using it without the need to be worried if you're doing it right or not.
Most of these mini sewing machines on this post are made with high quality, and they will help you to work with them with ease.
No matter where you are if there's electricity, or not, you can keep working on your sewing projects as most of these models can work with AA batteries as well.
Another benefit of having one of these mini sewing machines at home is that you won't have any problem at all at the time of working on a job of mending or patching one garment fast, or making a small sewing project.
Features to have in mind when choosing a Mini Sewing Machine
When you decide to buy your new Mini Sewing Machine, you'll be shopping in the market to see what are the best ones in the market, before you decide to get the first one you see, or maybe the cuter and nicer, there are some aspects you need to keep in your mind.
As the price might not be high on most of the models you'll find in the market, it's better to take your time to know more about the qualities of each model before you hand out your money or your credit card.
Quality
Most of the people will check on the name of the brand and many times the name goes hand in hand with the quality and the warranty.
No matter if you pay $30, $40 or even close to $100, you want to buy a mini sewing machine that will last in time while you or your kids learn about sewing.
As you can read on the reviews on this post, some have one month of warranty while other machines it goes up to one year.
Dimensions
Before you get your mini sewing machine, take your time to think about whether you're taking it to your sewing classes or workshops or just working with it at home.
While thinking on buying it to take it to your classes, this will mean to think on the size of it to fit in a tote bag with the rest of your material and equipment for the class.
Another thing to think about is about the size of your sewing projects you'll be working on with your mini sewing machine, if you're thinking on making some garments for yourself or for your family members, you will need a big space in the free arm, but if you're thinking of working on it while taking your classes on quilting on just using it to make the blocks for a quilt, a big space on the free arm will be OK then.
Features
Are you in need of a straight stitch only, or are you thinking on making buttonholes and some decorative stitches with it. Do you need the reverse stitch feature or not.
Free arm
Another good feature to have in your mini sewing machine is the free arm, most used to work on small spaces like slevees or pant legs.
LED lighting
When thinking on different sewing projects with ease, having a well illuminated sewing area will be important, taking your time to find which mini sewing machine has already this feature will help you to sew better, Singer 1234
Speed
Mini sewing machines tend to have lower stitch speed than the regular sewing machines, but this won't stop you to shop to find which one is the one that have the higher stitch speed, as it will help you to work better on different sewing projects.
Automatic needle threader
Since the first time a sewing machine came out on the market with this feature, it has been a game changer for many sewers, it's a time saver and you don't need to work hard to thread the needle in your sewing machine.
You can read also The Best Sewing Machines for Beginners here!
Closing
I hope you find this post helpful to find the Mini Sewing Machine you're looking for to work on your sewing projects, if you have any question, write your question in a comment, I'll be happy to help you.