The Bernette B38 Computerized Sewing Machine Review – This is a computerized sewing machine, and the top model in the Bernette series.
It comes with a large variety of up to date functions, and is very reasonable priced for all that it does. You will have no problems to accomplish all you're sewing projects quickly, and with excellent stitch quality on this machine.
This sewing machine is good for beginners and for the more experienced, and is very easy to set up and use, plus it is strong enough to handle all kinds of fabrics.
As the Bernette is part of the Bernina line, a company that's been in the sewing machine business for over 125 years, their products are of exceptional quality, and will give you years of use.
Bernette B38 Computerized Sewing Machine Review
We will mention some of the many features found on this model
394 Different Stitches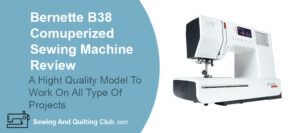 This machine comes with 394 different stitches, and includes the stretch stitch for any elastic fabrics you're working on, and 67 decorative stitches.
It also has 8 different one-step buttonholes and 3 alphabets.
In its computer, you can store various combinations of stitch patterns that you happen to like, then bring them back up when you need them again.
Just to the right of the LCD display screen are the touch controls to select the mode, stitch pattern and make any adjustment you like.
To select your stitch pattern, select mode, then direct, utility, decorative or alphabet, and the select stitch number.
You will find a convenient stitch chart located in the drawer for quick references.
The maximum stitch length is 5 mm, and the maximum stitch width is 7 mm, and both are adjustable on the LCD screen, and when you select a stitch the computer will automatically set the recommended stitch width and length.
8 Presser Feet
This machine comes with 8 presser feet, so that you have enough for whatever your project is, and it will give you excellent stitch quality with each foot.
Zigzag foot – for decorative and patchwork
Overlock foot – For creating decorative cuffs, hems, and buttonhole seams.
Zipper foot – zipper and beading work.
Satin stitch foot – for satin sttiches
Blindstitch foot – for blind hemming
Button sewing foot – for your buttons
Open toe foot – for appliques
Buttonhole foot – for buttonholes
The presser feet are the easy snap on and off type.
Also the Bernette B38 has the feature to be able to adjust the presser foot pressure, and for sewing thin fabrics it is very handy.
When you select a stitch on the LCD screen the computer will display the recommended presser foot to use, and the presser foot is lettered to easily know which each foot does.
The presser foot lifter has the ability to raise the foot extra high for sewing thick fabrics.
The Bobbin And Threading
To wind the bobbin on this machine, follow the diagram on top, and engage the bobbin winder, and you can either press the foot control or the stop/start button, plus the bobbin will stop automatically when full.
It has a top-loading drop in bobbin and hook system for easy loading, and good stitch quality and with its clear cover you can tell when the thread is running out.
To thread the machine just follow the arrowed markers on the machine down to the semi-automatic needle threader.
The machine also has an automatic tie-off function just by the push of a button the thread will be tied off the end a seam, and pressing another button the thread can be cut from the needle and the bobbin allowing your to remove what you're sewing without reaching for scissors, and there is also a manual cutter for the thread.
The thread tension can be adjusted by the turn on a dial.
7 Points Feed Dogs System
This machine comes with a 7 point feed dog system, which allows the fabric to flow smooth while sewing. It also has a lever to raise or lower the feed dogs for free motion while sewing or quilting.
Lighting
There is a strong LED light to give you a good view of your working area.
Free Arm And Accessory Storage
The front accessory storage drawer will pull straight out from the machine giving access to the free arm for sewing jeans, cuffs, sleeves, etc.
This machine also comes with an extension table which is 15 3/4 inches by 11 inches providing more space for larger sewing projects, and has adjustable legs.
A Mention Of The Working Buttons
Start/stop button – just above the needle
Reverse stitch button – to tie off your stitches.
Auto-lock button – which when pushed will automatically tie off the stitches at the end.
Needle stop up/down button – It's located under the LCD screen
Thread cutter button – this is a very handy button
Twin needle button – which helps to adapt your double needle to the presser foot, so they do not hit the presser foot and break.
The slide speed control button – can adjust you're sewing speed up to a maximum of 820 stitches per minute.
Touch panel buttons – they are located to the right of the LCD screen for choosing stitches and settings.
Pressure foot, pressure dial – On top of the machine, above the working area.
Adjustable thread tension dial.
Feed dog lever – It's located at the back of the machine for raising and lowering feed dogs.
Accessories For The Bernette B38
Large extension table
Foot control
Power cord
Hard Cover
Spool net
Seam ripper
Screwdriver
2 spool caps
Extra spool pin
Presser feet (8)
Assortment of needles
Lint brush
4 bobbins
Instruction manual
Specifications For The Bernette B38
820 stitches per minute
5 mm stitch length maximum
7 mm stitch width maximum
15 needle positions
2 presser foot heights
21.7 pounds weight – has handle for carrying
19.5 inches by 16.1 inches by 11.1 inches.
15 3/4 by 11 inch extension table.
Warranty
The machine comes with a 10-year limited warranty, 10 years against defective material or workmanship and 2 years on the electrics, and always advisable to check warranty after purchasing.
The Pros And Cons For The Bernette B38
Pros
This machine has everything for you're sewing needs.
Large variety of stitches
Will sew thin and thick fabrics
Is quiet running
Easy to set up and use
High quality machine built to last
Great for beginners as well as the more experienced.
Not overly expensive for what you get.
Cons
At 21.7 pounds might be a little heavy for some.
Complaints of thread cutter not always working.
Doesn't have embroidery function
It doesn't come with free motion quilting foot
Most FQA For The Bernette B38
Who Made The Bernette Sewing Machines?
Bernette is part of the Bernina sewing machine company, a well-known brand that has been in the business for 125 years. This is a company who always aims to design and build top quality models to help sewers around the world to work with the best features on all types of projects.
Why Will I Choose To Purchase The Bernette B38?
When you love to sew and you want to get serious about working on different projects getting the best results, you want to purchase the best quality and well designed sewing machine. As this model comes with top features that you can find only on other top brands.
Is This Sewing Machine Good For Beginners?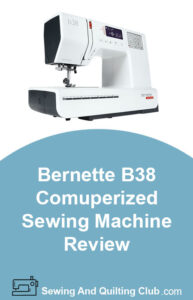 This is a well designed sewing machine for sewers of all skill levels, from beginners to the more advanced, they will all find the features on this model will help them to work on all type of projects.
As this is an easy to set up machine, it will be ready to start sewing in no time. Beginners will find it easy to start learning to sew on this model and as they get more skilled they can try more features to work on higher skill level projects.
Is the Bernette B38 Portable?
The Bernette B38 comes with a built-in handle that makes it easy to carry around the house or to take it to you're sewing classes, however you need to take in consideration that it has a weight of 21.7 pounds, and that makes it not a lightweight model.
Can I Do Free Motion Quilting With This Sewing Machine?
It comes with the drop feed dog system, and this means you can do the free motion quilting as well on this model, but it doesn't come with the presser foot you need to work on this feature, you can purchase the presser foot to make the free quilting from the Bernina brand as it compatible with the Bernette sewing machines.
Take a look to another great sewing machine on the Bernette family: The Bernette B35
Where To Purchase The Bernette B38?
This sewing machine is a high quality model and is not uncommon to find it for sale on the shelves of specialty or craft stores, you can find the Bernette B38 available on both in-store and online
Wallmark
Sewing Machine Plus
And you also can check for today's price on Amazon
Our Closing Thoughts On The Bernette B38
The pros outnumber the cons for this sewing machine, and with its wide range of functions and large amount of stitches, we could easily recommend it as a very good investment.
With its strong motor, and built to last, this machine will sew from delicate silks to much thicker fabrics making it one of the best for your creative sewing projects.
This machine is well worth taking a look at or giving it a test run to see if it has all that you require in a sewing machine.
Wishing you all the best on you're sewing projects – Happy Sewing!