Once you start sewing, before you notice you might be tempted to try to make some embroidery designs on your projects, if you're looking for an embroidery machine that's easy to set up and start working on it, let's take a look to the Brother PE800 Embroidery Machine Review.
The Brother PE800 Embroidery Machine is designed just for embroidery and the detailed work involved.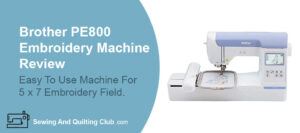 It's a computerized model with a 3.2 inch Sew Smart color LCD touch screen so you can view the designs in full color, and even change the thread color to preview the design before stitching.
The machine comes with a USB port built-in so you can import virtually unlimited embroidery designs, but a USB stitch is not provided, and needs to be purchased separately.
On the touch screen you have the ability to customize different settings and you can check out the different options on its menu, and it also has the ability to style the font, and text, to make it what you like in size.
You can make any of your embroidery projects into something extra-special with the PE800, and it gives you excellent quality to each design.
The computer also has step by step instructions on the touch screen display about how to thread the machine, how to attach the embroidery arm, and more.
The machine uses a 5 x 7 inch embroidery field, so that you can embroider a large area such as on a quilt or even a small design for clothing.
Who Is The Brother PE800 Embroidery Machine For?
This model was designed by Brother for anyone who loves to sew and wants to start work on making embroidery, as this machine is designed easy to set up and start embroidering on it, it has a small learning curve any beginner or advanced sewers can use.
Brother PE800 Embroidery Machine Review
Below we will mention some of what PE800 Embroidery machine can do.
The Bobbin and Threading
To wind the bobbin is the same as most Brother sewing machines, by following the diagrammed instructions on top of the machine, and then pressing the start/stop button.
The machine has the top loading drop-in bobbin system, and by just removing the cover, drop the bobbin in and follow the threading guides.
To thread the machine, it only takes seconds to do by following the numbered arrows down to the automatic needle threader, and then its ready to go.
The machine also has a thread sensor for when ever the bobbin is getting low, and on the computer the thread tension can be adjusted.
Features For The PE800
138 built-in embroidery designs
11 lettering fonts
650 stitches per minute
Mirror imagine
Extensive design editing options
Programmed thread trimmer
USB port built-in for down loading designs
Large color LCD touchscreen
LED light for the work area
5 x 7 inch embroidery area
Accessories For The PE800
5 x 7 inch embroidery hoop and more
Embroidery foot
Bobbins
Needle set
Cleaning brush
Seam ripper
Bobbin cover
Screwdriver, small, and large
Disk shape screwdriver
Spool cap, small, medium, and large
Spool cap, mini
Scissors
Spool net
Embroidery bobbin thread
Accessory bag
Dust cover
Instruction manual in English/Spanish
Power cord
Buttons For The Features
Start/stop button – just above needle
Needle up/down button
Thread cutting button.
On the screen you can choose the design and the hoop size so that it tells you which design fits that hoop, and you can do a lot of editing, merge designs, or move them around.
The touch screen has a very small learning curve, so will not take long to set up, and with the full color your designs stand out very clear.
The computer can slow down the maximum embroidery speed to what ever speed you prefer.
It can also show whether you like to use millimeters or inches for your choice of measurement.
Another feature any embroidery artist likes is the ability to do designing right on the machine, and you can change the needle up/down also on the screen.
With its memory, you can save the designs for future use, and also import designs via the USB Drive.
Right on the machine you can rotate, make larger or smaller any design you have, and it has a large amount of features for you to work with plus more.
Lighting
The machine has a strong LED light, that's centered over the work area, and will help ensure that the embroidery designs are arranged in the right place.
Specifications For The PE800
17 pounds and has a carrying handle.
138 built-in designs.
650 stitches per minute.
17.3 inches long by 11.49 inches high by 7.91 inches deep.
11 fonts.
Pros And Cons For The Brother PE800
Pros

Easy to set up and thread
Small learning curve
138 built-in designs and unlimited extra designs with USB port.
Large variety of computer features.
11 fonts.
A good embroidery machine to start your small embroidery business.
Cons

The PE800 is for embroidery only.
A little expensive for just embroidery.
Warranty For The PE800
This model has the 25-year limited warranty, which is 25 years against defective materials or workmanship, 2 years on the electrical components, and 1 year on parts, and labor from your date of purchase.
Always check the warranty when purchasing.
FAQ For The Brother PE800 Embroidery Machine Review
How Many Hoops Come With The Brother PE800?
This model comes with one 5 x 7 inch embroidery field hoop, but you can purchase a set of different hoop sizes to work on different projects with ease.
Can I Use A Larger Hoop With The Brother PE800?
You can use a larger hoop with this model, but you need to remember the embroidery field on this machine is 5 x 7 inches, you can make any embroidery you want to make to match this size or smaller.
Can I Combine Two Embroidery Designs On This Machine?
Yes you can, you can design your next embroidery on the Brother PE800, it comes with a touch screen where you can combine two designs, it will be easier for you to add a design and add a name or a phrase on your design.
What Type Of Embroidery Designs The Brother PE800 Can Do?
This model comes with a UBS port to make it easy for you to get more embroidery designs on this machine, but it's important to know this machine works with a specific type of files, the embroidery designs should be digitized for embroidery only.
Where To Purchase The Brother PE800 Embroidery Machine?
You can find this model on the shelves of speciality stores or with the sewing machine dealer in your area, you can check today's price on Amazon.com
If you want to take a look to a combo machine, you can read the Baby Lock Destiny II Review here!
Final Thoughts
This is an advanced embroidery machine with an abundant amount of features to bring your projects into creation.
Brother is a well-known brand, and their sewing machines are built to last, so as long as you realize the PE800 is just for embroidery and not sewing, it will make a good addition to any sewing room.
We would recommend it if this is the type of machine you are looking for, and the positives outweigh the negatives for this one, and we like it being easy to use and set up.
So we hope this review of the Brother PE800 embroidery machine helps you out.
Wishing you all the best on your sewing projects – Happy sewing!
Are you looking for more embroidery machines reviews to read?
Bernette B79 Review – An easy to set up embroidery sewing machine, perfect to upgrade your sewing projects with beautiful embroidery designs.