When a sewer loves to work on different types of projects, finding a good model with sewing, quilting and embroidery features will be a good add to the sewing room, so let's take a look to the Baby Lock Verve Review.
Who Is The Baby Lock Verve For?
Beginners and more advanced sewers will love to have in their sewing room a model that comes with sewing, quilting and embroidery features to help them to work on many projects. Garment constructions, home decor, crafts, making quilts, and many other projects will be easy to make when you have this sewing machine at home!
The Baby Lock Verve is a computerized sewing and embroidery machine, and for quilting also.
It has a 3.2 by 1.8 inch color touch screen with the drag and drop feature to reposition your designs, and a built in USB port to import more designs from a memory stick.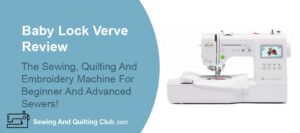 This machine is compact in size and with a carrying handle could easily be taken to sewing classes or on your travels.
There is plenty of room to work on your sewing or quilting projects, as it comes with an 18 1/4 inches by 11 inch extension table for that extra space that's often needed.
The machine is very easy to set up and start sewing with, so is actually ideal for a beginner sewer or the more experienced.
Baby Lock Verve Review
Below we will mention some of the features you can find on the Baby Lock Verve to see if they fit into what you're looking for in a sewing, quilting and embroidery machine.
Stitches For Sewing
This machine comes with 191 built-in stitches, and 10 buttonholes.
There are 72 utility stitches, 41 decorative stitches, 17 satin, 11 cross stitches, 10 decorative satin stitches, and 40 combinable utility decorative stitches.
The machine comes with the reverse reinforcement stitch button for tying off a run, and the stitches are easy to select on the LCD touch screen.
The maximum stitch width is 7 mm, and the maximum stitch length is 5 mm, plus the machine will sew at up to 850 stitches per minute.
The Bobbin and Threading
It is recommended to only use class 15 type bobbins for this machine. To wind the bobbin just follow the guides on the machine, and have the thread unwind from the bottom of the spool, and also clockwise for 5 times on the bobbin.
You can wind the bobbin by pressing start/stop button or when foot controller is attached you can use it.
When the winding becomes slow shut off the machine, and remove the bobbin. This model has the top drop-in bobbin, just remove the cover, and drop in the bobbin and follow the thread guides, and with thread coming off bobbin to the left, plus you don't have to pull up the thread, and you are ready to sew.
To thread the machine follow the arrowed guides down to the automatic threader, and just push the lever at the end of the machine down, and you're good to go.
There is also a thread tension dial on the top of the machine if ever needed.
The Baby Lock Verve Comes With 8 Presser Feet
Buttonhole foot
Embroidery foot
Overcasting foot
Monogramming foot
Blind stitch foot
Butting fitting foot
Zigzag foot
Zipper foot.
The presser feet for this model are the snap on and off type, just press the black button on the back to remove the foot, and snap on a new one. Each presser foot is lettered for the convenience of changing, and the computer shows the presser foot recommended for the stitch.
Feed Dogs
The feed dogs are the 7 point system and will feed the fabric even and smoothly while sewing. The feed dogs can also be raised or lowered with the switch at back of the free arm for free motion sewing or quilting.
Free Arm
When you pull off the accessory tray, it gives access to the free arm for sewing sleeves, pants, cuffs, etc. Also with the accessory tray removed you can attach the embroidery arm by just pushing it in place.
Control Buttons
The control buttons are conveniently located on the front.
Start/stop button
Reverse reinforcement stitch button
Needle position button
Thread cutter button
Sewing speed control
And just below the screen are the keys to select the stitches, and embroidery functions which are touch sensitive on the screen with a stylus pen being used for that.
Other Sewing Features
Needle plate marked in inches and centimetres.
4 alphabet styles.
Ability to do utility stitch-editing.
Variable needle positions.
Twin needle settings.
Embroidery Features
Built-in library
95 embroidery designs
140 frame patterns.
11 font styles in upper and lower case.
Embroiders up to 4 inches by 4 inch.
Up to 50,000 stitches per design.
Mirror imaging.
Adjustable stitch density on built-in fonts.
Able to combine designs.
Screen shows – Thread color, hoop size, embroidery time display and more.
The Included Accessories For The Baby Lock Verve
Snap on feet.
4 x 4 embroidery hoop.
Needle package.
Scissors.
Hard cover.
Screwdriver.
Spool cap – small, medium and large.
Seam ripper.
Cleaning brush.
Eyelet punch.
Twin needle.
18 1/4 inch x 11 inch extension table.
Foot control.
Power cord.
Instruction manual.
Embroidery design guide.
Quick reference guide.
Lighting
There is a strong light to give good illumination on the work area.
Specifications For The Baby Lock Verve
15.5 pounds.
18.45 pounds with embroidery attachment.
191 built-in stitches.
95 embroidery designs.
7 mm maximum stitch width.
5 mm maximum stitch length.
4 alphabet styles.
50,000 stitches for designs.
Warranty
This model has a 25-year limited warranty with 10 years on parts, 5 years on the computer circuit, 5 years on electrical and 1 year on labor.
Also check warranty when buying.
Pros And Cons For The Baby Lock Verve
Pros
Light enough to take to sewing classes.
Good for beginners, and the more experienced sewer.
A large work space.
850 stitches per minute.
191 built-in stitches.
Excellent embroidery machine for someone starting out.
Cons.
It doesn't come with quilting feet.
Is The Baby Lock Verve Good For Beginners?
This sewing and embroidery machine has a small learning curve and it will help beginners to learn to sew on a computerized sewing machine easy to set up, as it comes with a touch screen it will help beginners to switch from one feature to another to work on different projects.
Can I Make Quilts With The Baby Lock Verve?
This model has the drop feed dogs system to help you to work on the free motion quilting on any size quilting projects you want to make, however this model doesn't come with the presser feet you need to work on the quilting or the free motion quilting, so you will need to purchase them apart.
What Type Of Projects The Baby Lock Verve Can Make?
This is the perfect model to have in your sewing room if you like to work on different types of projects, it comes with all the features you will need to help you to work on garment construction, home decor, craft, quilting and embroidery projects!
Looking for a different model, take a loot to the Top Baby Lock Sewing Machines
Where To Buy The Baby Lock Verve?
You can find this model on the shelves of specialty stores or with the sewing machine dealer in your area, you can also check today's price on Amazon.com
Baby Lock Verve Review – Our Final Thoughts
After looking at the pros and cons, we would recommend the Verve for anyone into the sewing, quilting and embroidery field.
The Baby Lock machines are very well put together, and built to last for years, making them a great investment for anyone who loves to sew.
There are enough stitches and embroidery designs to handle all the projects you might have and the right amount of up to date features to make your sewing so much easier.
The stitches and embroidery features found on the computer screen are very easy to work with, and have a low learning curve.
If you find that this sewing machine matches up to what you are looking for, then you might want to take it out for a test run.
Wishing you all the best on your sewing projects – Happy sewing!