When looking to work on a variety of projects like sewing, quilting and embroidery, you might be looking for a model that comes with all the features in one unit, so let's take a look to the Baby Lock Ellisimo Review
Who Is The Baby Lock Ellisimo Sewing Machine For?
This is a model to have in your sewing room if you are a beginner or advanced sewer who is looking to work on sewing, embroidery and quilting projects.
The Baby Lock Ellisimo is a computerized sewing, embroidering and even quilting machine. It comes loaded with all the features, and the stitch quality is excellent.
There is an over sized full color touch screen that measures 8 1/2 inches on the diagonal, and has 260,000 colors.
It has 3 USB ports, type B, direct connect, and 2 type A, and you can access all of your designs, and even use a mouse to make changes, browse the menus, designs or stitches instead of using the touch screen.
With this computer you can do embroidery editing for any designs that you like, and any changes are updated 10 times faster than conventional machines with its advanced information processing.
You have the ability to mirror image, merge, reduce, duplicate or rotate designs, even change the design to a single color.
This machine also has a needle cam that magnifies the needle work area, and shows it up close on the LCD screen, and will set the embroidery positioning automatically giving needle point accuracy for detailed work.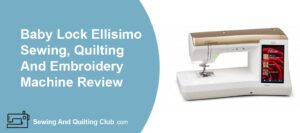 Another great computer features is that the instruction manual is at your finger tips, along with 11 built-in videos, and a list of frequently asked questions, plus a sewing guide to help you out, and you can even customize the screen.
The Ellisimo makes your sewing, embroidery and quilting experience easy, with its computer system that does everything.
Baby Lock Ellisimo Review
We will mention and list some of the features for this sewing machine.
Sewing Features For Stitching
The machine has 682 built-in stitches which is more than enough to create any projects.
It has 148 utility, and that includes 15 one-step buttonhole styles plus 1 four-step custom buttonhole.
There are 355 decorative stitches, 79 decorative satin, and 20 satin stitches.
You can also customize the 682 built-in stitches to what you like and save them plus there are 150 stitches that can be used in the embroidery mode.
It contains 29 quilting stitches, and 3 built-in alphabets, and 57 needle positions.
The maximum stitch length 5 mm, and the maximum stitch width is 7 mm, and a basting stitch length can go up to 30 mm.
It has edge sewing abilities, and can sew decorative and utility stitches while the arm for embroidery is still attached, plus will do mirror image stitches and, has the reverse stitch button plus so much more.
Embroidery features.
The machine comes with 533 built-in embroidery designs, enough to create any project you have in mind, and even has a Greek alphabet, script alphabet and a large floral alphabet.
It comes with 4 embroidery hoops, the extra large 8 x 12 inches, the square 8 x 8 inches, and the medium 4 x 4 inches, and the small 1 x 2 1/2 inch.
The computer can read the embroidery designs, and has the capacity to do 500,000 stitches per design, and gives an estimated embroidery time and stitch count, plus measurements can be displayed in metric or inches.
The machine will embroidery at speeds up to 1000 stitches per minute, and you can customize the patterns and the background colors.
It's also able to embroidery without removing the foot control.
Bobbin and Threading
To wind the bobbin just follow the instructions on top, and it has an independent motor for the winding.
This model has the top load bobbins system, just remove the cover and drop it in, and follow the guides for the thread.
Threading the machine is very easy, just follow the numbered arrows down to 8, then hit the button for the automatic threader, and with the advanced threading technology you're threading is fast and easy.
It has the automatic thread cutter for bobbin and needle thread, and an automatic thread tension sensor, and upper and lower thread sensor to tell when thread is running out.
Feed Dogs
The feed dogs allow your fabrics to flow smoothly and even while you're sewing or quilting, and you can also raise or lower the feed dogs for free motion sewing or quilting.
Lighting
The lighting on this model is called stadium Lighting as it uses bright LED lights to brighten the needle work space, and 10 inches around the work area so that there is no eye strain when sewing darker fabrics. The color touch screen shows 260,000 colors, and gives you 160 degrees of easy viewing.
Free Arm
The machine also has the ability for free arm sewing for cuffs, sleeves, pants, etc.
Control Buttons
The Ellisimo has conveniently located buttons on the front.
Start/stop button
Reverse sewing button
Needle up/down button
Sewing speed control
Plus all the features found on the computer touch screen.
A 3 position adjustable knee lift, with the extra high foot lift.
Presser Feet
This sewing machine comes with 18 presser feet
Embroidery foot
Buttonhole foot
Zipper foot
Overcasting foot
Zigzag foot
Monogramming foot
Walking foot
Blind stitch foot
Button fitting foot
Free Motion quilting foot
Free Motion open toe quilting foot
Straight stitch foot
Echo quilting foot
Side cutter foot
Blind stitch with guide foot
Narrow hemmer foot
Cording (with 3 cord guide) foot
Vertical stitch alignment foot
It has an accessory case to store the presser feet, and to change presser feet it is the snap on type which is quick and easy, and each foot is lettered for convenience when time to change, plus the computer also displays the recommended foot to use for the stitch.
Included Accessories For The Baby Lock Ellisimo
Presser feet (18)
Touch pen (Stylus)
Baby Lock digital USB mouse – either the touch pen or mouse can be used.
LCD cleaning cloth
USB cable
Accessory case for storing presser feet
Straight stitch needle plate
Carrying case for embroidery unit
Soft cover for sewing machine with 3 storage pockets.
2 thread spool stands for large cones.
A bobbin case for pre wound bobbins
Bobbin center pin
Embroidery bobbin thread
Bobbins
Cord guide bobbin cover
Twin needle
Sea ripper
4 embroidery hoops
Electronic foot control
Power cord
The Embroidery Features
4 embroidery hoops
533 built-in embroidery designs
Built in embroidery design library
16 font styles
2MB memory capacity
500,000 stitches per design capacity
Screen shows design placement by drag and drop
Color seperation
On screen hoop size indicator
Customize embroidery designs, and combine on screen
1, 10 and 90 degrees pattern rotation.
Design duplication, mirror imaging
Programmable custom thread color
Pint and stitch abilities
Automatic embroidery positioning
Needle cam- digital camera for perfect embroidery positioning
Preview each design with the true view display, and even change background colors.
Specifications For The Baby Lock Ellisimo
260,000 colors shown on touch screen
3 USB drives
1000 stitches per minute
533 embroidery designs
16 font styles
500,000 stitches per embroidery design
10 inch by 5 inch work area
7 mm maximum stitch width
5 mm maximum stitch length
8 1/2 inch on the diagonal color touch screen
682 built-in stitches
3 built-in alphabets
29 quilting stitches
57 needle positions
Warranty
The warranty for the Ellisimo is 25 years limited, and 5 years on the computer circuit, 5 years on the electrical and 1 year on the labor.
Always best to check the warranty when purchasing.
Pros And Cons For The Baby Lock Ellisimo
Pros
Easy to thread and set up even for a beginner sewer
Has every feature needed for sewing, quilting and embroidery
Drag and drop ability
Large LCD touch screen
Many time saving features
Efficient and built to last
All the instruction are on the computer plus more.
Cons
Where To Buy The Baby Lock Ellisimo Sewing Machine?
This model can only be purchased on specialty stores or with your sewing machine dealer in your area, but you can take a look to some other reviews on the internet, take a look to Amazon.com
Looking for a different Baby Lock Sewing Machine model?
Our Final Thoughts For The Baby Lock Ellisimo Review
This is a sewing, quilting and embroidery machine that has everything that you could need to make your sewing adventures easier.
The learning curve for the Ellisimo is made for a beginning sewer, as well as the more experienced, so you will find it very easy to work with on all your projects.
Once you work with the Ellisimo for a while, you will wonder how you ever sewed without all the features this model has.
If you're looking for a sewing machine that does it all, then take this one for a test run.
We wish you all the best on your sewing projects – happy sewing!