When you're creative and you love to sew, sooner or later you will start adding some embroidery on your projects, as embroidery will always make a piece of clothing unique and prettier.
Any piece of clothing will an embroidery on it, whether is small or big, will make any clothing to stand out from the rest, and you might be wondering if you can add some embroidery to your projects on your sewing machine.
Is Embroidery With A Sewing Machine Hard? Depending on your sewing skill level, adding embroidery stitches or images will be hard or easy for you, but this is a skill that anyone who loves to sew can learn, and you might be happy to know that you can learn how to do it with the sewing machine you already have.
Sewing VS Embroidery Machines
There are many different sewing and embroidery machines on the market, most of them are designed and built for sewing, a smaller group are designed and made for embroidery, and even a smaller group will do both.
As not all sewing projects will require to add some embroidery on them to be pretty and professional, here is why most machines do only stitching and some comes with a few or many decorative stitches that will help you to add some embroidery stitches.
Embroidery machines on the other hand, are designed and built to add some decorative designs on a project, most of these machines are computerized and easy to work.
When any beginner purchases an embroidery machine, there will be a learning curve to learn how to set up the machine and how to add any designs on your project.
The learning curve will help you to learn how to set up your embroidery machine and how to set up your project on the embroidery hoop, once you get these two steps done, most embroidery machines will require from you to press the start button and they will do all the work for you.
Pros
When I first bough my first embroidery machine, it was like magic to see the machine doing all the work for me, the quality is professional and easy to use.
If you're planning to use your embroidery machine often, then this is a good idea.
Personal designs can be designed on a computer and get the software made for you.
Cons
Some embroidery machines come with limited designs and you will need to buy more designs from the sewing machine company where you bought your machine.
An embroidery machine will do only embroidery and can't be used for sewing. You might want to consider this before you purchase your machine.
Adding Embroidery Designs On Your Projects With Your Sewing Machine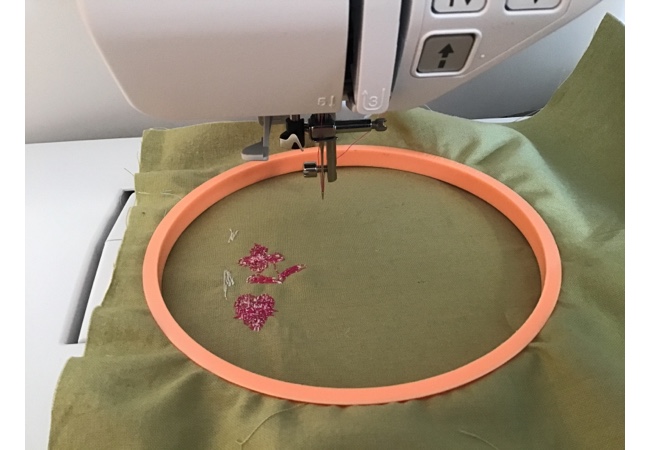 When you're creative and when you love to sew, you might want to learn how to add some creative embroidery on your projects with your sewing machine you already have at home.
Some sewing machines are designed to be used to add free motion embroidery on your projects and some are not, you need to check if you can drop the feed dogs on your machine, if your machines comes with this feature, then you can start running some test.
Related: How To Top Threading A Brother Sewing Machine.
Is Free Motion Embroidery Hard To Do?
Any new task on sewing might need some time to learn how to do it, but any sewer can learn how to do it!
You will need to get from your stash of fabrics, one that is solid color will be the best, and big enough to set it up on a hand embroidery hoop.
To create your own free motion embroidery designs, thread your sewing machine with a colored thread, drop the feed dogs, and change your sewing machine presser foot for the darning foot.

The stitching length should be zero, as you will be moving the embroidery hoop with your hands while the machine is stitching.
Start with something small, and try first some straight lines, then draw on the fabric some small circles and fill them up with free motion stitches.
The more time you spend working on some test, you will learn more about how your machine works when you do free motion embroidery, whenever you like the results from your work, you might want to start drawing with a pencil some flowers or other small designs on your fabric.
Start working on these small designs with one thread on any specific color, then change the thread color and add a second layer on your design.
Keep working on different designs until you learn how to move the embroidery hoop with your hands while your sewing machine works, once you're happy with the results, you will be ready to start adding some free motion embroidery on your projects with your sewing machine.
Why To Learn Free Motion Embroidery On Your Sewing Machine
If you're a creative sewer, you might want to add that extra touch to your projects, and learning how to do the free motion embroidery with your sewing machine will help you to create beautiful pieces of clothing and home decoration items, without the need to purchase an embroidery machine.
Closing Thoughts
When you love to sew and you're a creative person, soon you'll be testing some more features on your sewing machine and you might learn how to set it up to do free motion embroidery on your projects.
Learning to add embroidery with your regular sewing machine on your projects, might require to learn how to set up your machine and how to move with your hands your project to create unique and pretty embroidery designs.
As a person who loves to sew, this is another skill you need to learn and we are sure that soon you'll be creating amasing embroidery designs on your projects!
Thanks so much for reading our blog today, Happy Embroidering!