When you love to sew different projects, you might be wanting to try to make something with a different technique, as a part of a piece of clothing that will help you to give it your own personal design.
Applique is a sewing technique where you can sew on a small piece of fabric to a larger piece, to make a pattern or a design, and it can be done by hand or with your sewing machine.
What Fabrics Are Good For Applique
There are many different fabrics that are good for applique, when you work on a project you can use the same fabric in a different color or tone, or you can use a different fabric as cotton, silk, linen, wool, denim and more. Applique can be stitched on by hand or with a sewing machine.
What Materials Do You Need To Add Applique To Your Sewing Projects
There are two techniques to do applique, by hand and with your sewing machine, both are good and will help you to add that extra touch to any project, but these two sewing techniques use different supplies.
Applique By Hand
Sewing Needles – You will need to get a sewing needle with sharp point and the eye size will depend on what thread you will be using.
Pins – To hold the applique piece on its place while you stitch on the piece to a larger one.
Thimble – You will be working with two or more layers of fabric, and the stitching might be hard to do depending on the thickness of the materials, a thimble will help you to do the stitching with ease, at the same time it will protect your fingers.
Applique With Your Sewing Machine
Sewing Machine – You will need a machine with some special features like zigzag stitching and drop feed dogs. These two features will help you to do any applique on any project with ease.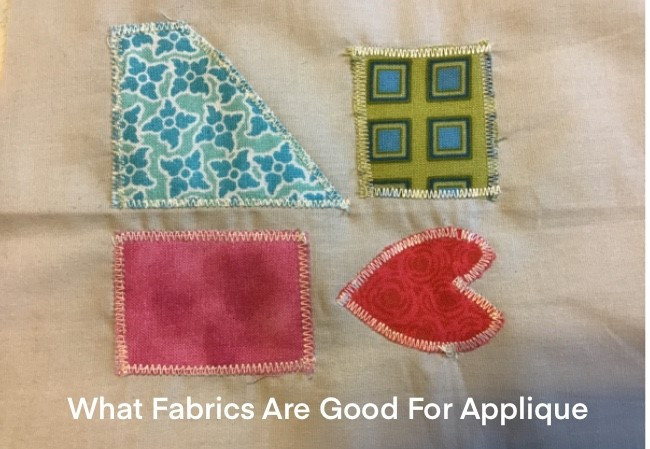 Materials For Applique
Fabric
There is a good number of fabrics to work with while making an applique piece on a project such as: cotton, silk, velvet, denim, and many others.
You need to know what type of material you'll be using to prepare it before you start the stitching, like depending on the material, it might need to be washed before cutting the piece to prevent any shrinking or bleeding, as both might damage your project.
When thinking about washing the project, you need to think about the larger piece on your project to follow the instructions and not on the applique piece.
Interfacing – You can decide whether to use iron on, tear away, cut away, or soluble based on what type and size of the applique piece.
Pins – To hold the applique piece in place.
Fabric Glue – Some drops of fabric glue can be used to hold an applique piece in its place while you stitch on the piece to a bigger piece, there are some fabric glues in the market that are easy to work with and are temporary
Closing
When looking to make a unique piece from your project, you might want to add one or more pieces of applique, as the possibilities are endless, as you can use many different fabrics on an applique piece.
Use a different fabric to give your project a focal point and make it stand out from the rest, using the same type of fabric but in a different color will also be a great option to work on an applique piece!
Use the zigzag stitching or a different stitching pattern with a thread on matching color or a different color.
We hope you find this information about what fabrics you can use when making an applique piece on your project helpful, if you have another tip, share it on a comment, as we all learn from each others.
Happy Sewing!