The Free Sewing Project Planner Template will help you to keep all the information from your sewing projects in one place.
Tired of keeping notes and drawings on pieces of paper
Hard for you to find where did you leave that note
Want to make that project again, but you don't remember what pattern or fabric did you use to make it?
I understand you, I was just like that!
Free Sewing Project Planner Template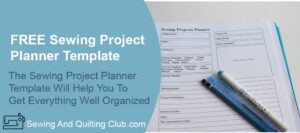 Every time my friends from my sewing and quilting group asked me for some directions on a project I did in the past, I had hard times to give them the right directions to make it.
This is why I started to take notes and keep everything on a binder, it was easier for me to find everything anytime I wanted to do a project again or when my sewing and quilting friends asked me for some directions.
As I started to using a notebook first to keep everything about each of my sewing projects, it was easier to find the instructions later.
Working on a regular note means every time you want to take some notes from a new project you're working on, you need to write down everything again, and that is time-consuming.
When you love to sew and to make quilts, all you want to have is more free time, and taking notes takes up much of your time.
Having a template with the most important things that you need to take notes from on any sewing or quilting projects will help you to take notes fast and get back to sewing and quilting in no time!
The Sewing Planner Will Help You To Keep Track of Your Projects
Nothing more simpler than downloading the FREE Sewing Planner PDF and print it out as many times as you want to, I made about 20 and I can make more copies of it when I start working on more projects.
A Sewing Planner will help you for planning out projects, keeping track of swatches, materials and measurements, and your personal notes you did on each project.
Nothing simpler that to have all the sewing projects you have done well organized.
The Benefits of Having A Sewing Planner Are Many
Keep track of the materials you use to make a project
keep track of the steps you did to make a project
Know what material and how much did you use to make it
Write some tips and notes to help you to do it better the next time you want to make another same project
When one of your sewing or quilting friends ask you how you made it, just make a copy of the project and you can give your friend the exact instructions you followed to make it.
The Sewing Planner Can Be One Of Your Most Beloved Treasures
As you keep taking notes and write the steps you followed to make the sewing and quilting projects on your sewing planner, you can create a sewing planner to hand down to the next generations.
Just like some families members get the treasure of getting their grandma or their mothers cookbook, a sewing planner can be seen as something valuable later in time.
Make Your Sewing Planner More Personal
The sewing planner template is just in black and white, but as you work on it, you can add some drawings of the projects you are working on and also some notes.
Add some doodles on it, and write your thoughts about the project you're currently working on, in a few months you'll be amazed on how many lovely projects you have made.
I hope you like the sewing planner template and it help you to get more organized.
You can also read:
Share in a comment what project are you currently working on!