As you start with sewing as a new hobby or as a business, you want to learn how to keep you're sewing machine at its best and here are the 5 Sewing Machine Maintenance Tips you can follow.
When you started to work with your brand new machine it worked like a charm, smooth and easy, as you keep working with it almost every day, you might notice how well it keeps working most of the times, but there will be days when you can notice it won't work the best and you might wonder what has happened to it. Believe me, I've been there many times 🙂
Many times we might have a hero near us to give us a hand to fix the machine, mine is my husband, he has fixed the problem many times, but for many can be also their partner or a good friend or someone in the family.
As I was right next to my husband while he was cleaning and fixing the sewing machine for me, I was taking notes of what to do to keep it on its best.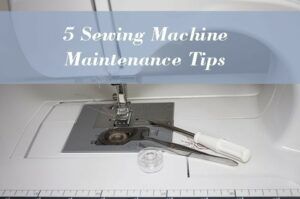 There's a few things that will help you to keep you're sewing machine at its best. The tips I share here are for mechanical sewing machines, I don't have any experience with computerized sewing machines (yet) so my best advice if you have one of the second would be to call to the brand machine support you have at home and they will tell you what to do.
The best advice goes for any major problem with any sewing machine, if it looks like a big problem, it will be always better to call the machine company support and ask them what you can do.
Many times the problems might look bigger that what they really are, but believe me, when you're new at it, everything looks bigger. I remember one day I spend the whole afternoon trying to find out what was the problem, a few hours later I found out I didn't thread it the right way, so I read once again the manual and from that time, my sewing machine has been working fine!
5 Sewing Machine Maintenance Tips To Keep It At Its Best!
1. Use The Right Needle
When you bought it, the sewing machine had a needle and it might come with a few extra needles (two or three) but you might be working with different types of fabric.
There's one type of sewing machine needle for most of the different types of fabric, if you're going to be working with a regular type of fabric, in most cases the needles your machine came with, they will work find, but in case you want to work with a different type of fabric, it's better to take time to find what type of needle will be better to use.
By doing this you'll save a lot of work finding out why you're sewing machine is not working right.
If you know in advance you'll be working with a few different types of fabric, it's better to make a list of the different needles you'll need, next time you go to the store, get a few of them and always have some extra sewing machine needles at home, this way you can start to work on a project from the start to the end.
2. Use The Right Bobbins
Not all the mechanical sewing machines are made by the same company, and each brand will have its own bobbins.
Once you get you're sewing machine, it will be a good point to have in mind to find what type of bobbin your machine uses, next time you go to the fabric store, you can buy some extra bobbins to have at home.
It's always a good tip to have extra bobbins ready to be used, this way you won't lose time when working on a sewing project.
Take the time to read the manual to learn how to wind and load the bobbins correctly. Many times the sewing machine won't work well if the bobbin is not wound or loaded correctly.
3. Keep Your Sewing Machine Covered
When you're not using it, even if you have a sewing room and you can leave the sewing machine all the time on the work table, it will be better to cover it. By doing this you will protect it from getting too dusted.
Some machines are too easy to set up at the time you want to work on a new sewing project, that will be better if you place it in a storage place where it's dry and the temp is normal. (avoid keeping it in places where the temperature can be extreme)
Most of the machines come with a protection cover that will help to keep them in good conditions, in case you don't get one with your machine, you always can use a piece of cloth, a towel, an old pillowcase, or a cover made by you.
4. Change Needles Often
If I need to say the truth, I'm terrible at it, but it's said by the experts, needles should be changed often to get better results, many times you machine is not working good because of the needle and we all could think that it is because something is working bad.
A good tip would be to change the needle after you finished working on a big sewing project, and it will be ready for the next time you use it.
Another good tip would be, if you use it to work on different sewing projects, be sure you're using the right needle for each one of the projects you'll be working on.
5. Clean It Out
Take the time to do a clean out of you're sewing machine from time to time, the more you use it, your machine will require for often a good cleaning service.
It's not hard to do a good cleaning at it, you can watch this video where you can see the steps you can do to keep it always clean and ready to work with it.
Best Tools To Use To Clean A Sewing Machine
Most of the sewing machines come with a small set of tools, you might get a small screw driver and a small brush, in many cases these tools will help you to do some small jobs to fix it and to do some cleaning on your machine.
In case the sewing machine you got doesn't have any service kit, you can take a look to this one and order online, it will be a good investment to help you to keep you're sewing machine in good conditions and ready to work anytime you want to work on your next sewing project.
* Thank you for using my affiliate links, you help to support my small family business, read the disclaimer here.
Closing.
Keeping you're sewing machine in good conditions is not hard and there are some easy steps to do so that anyone can do it.
Most of the times your machine will be good to work with it, but in case something is not working the way it should be, don't force the machine and it's always a better option to call the company support by phone or contact them online, they will let you know what you can do at home to check you're sewing machine.
If you can't get it to work again, the support people of each company will let you know what to do with it.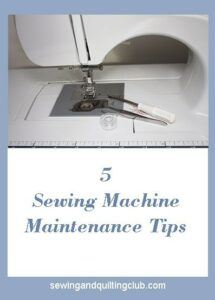 Follow these tips to keep you're sewing machine in good condition and I'm sure you won't have any problems with it and you'll be working for many years with it.
Buying a good sewing machine is a good investment that will last for years.
I'm happy I bought a mechanical sewing machine 7 or 8 years ago and after a learning curve to keep it in good conditions, it still works like the day 1!
If you find this article helpful, save it for later!